Math problems solved with app games
Here at Phones Review as well as bringing you all the news about new phones and tablets we also like to bring you information about some of the best apps available. Every now and then we like to roundup a selection of apps about a particular subject and today's variety of apps involve math problems and solving them with app games. The following apps are suitable for iOS or Android devices.
If you wish to check out further details on any of these apps or download them then they are all available from the App Store or Google Play and we have provided direct links for them for your convenience. The first app we want to look at is called MathBoard by palaware. This is an iOS app priced at $4.99 and is suitable for iPhone, iPod touch and iPad running iOS 4.0 or later. This is a great app for teaching the fundamentals of math such as addition, subtraction, multiplication and division and is especially suitable for children from kindergarten to elementary school. Features include random problem generation with up to 250 questions per quiz, one step equation problems, number ranges configurable from -9999 to 9999, quiz timing as a countdown timer or elapsed time, problem solving and more. This useful app has just received another update and is a great all-round choice.
The next app we have for you to consider is Epic Math Tricks by MrMarsman and this one is an Android app. This one is a free app suitable for devices running Android 2.1 or later and claims to help solve math problem in seconds with the help of some useful learning tricks. This app has a high customer rating and with practice you could be learning math tricks in a fun way that will help you come up with the answers really quickly.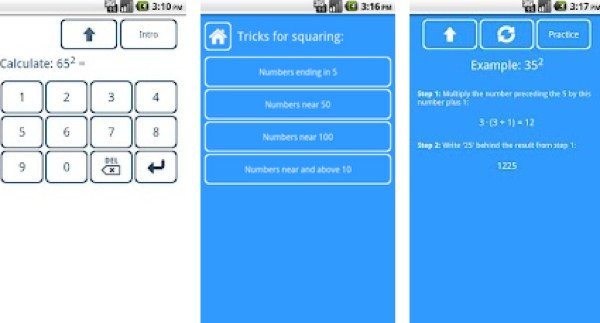 Another good option is King of Math by Oddrobo Software AB and this is an iOS app. It's a free app and compatible with devices running iOS 3.1 or later and recently received an update. It will help you sharpen up your mental maths and the free game gives you addition, subtraction and a mixed category. You can also purchase the full game in-app for $0.99 and that will also offer goodies such as arithmetic, geometry, fractions, statistics, equations and more. Its success is shown by the fact that it has now been downloaded over 2 million times and that in 30 countries it's the number one educational game. Aimed at Middle School/Junior High School level the app enables players to collect stars while playing as characters and also to compare scores with others across the world.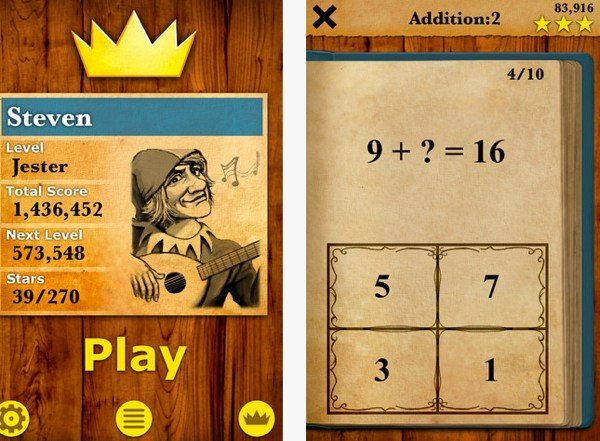 Our final app choice is Math Workout by Brain Training. This is another free Android app for devices running Android 1.6 or later. This app sets daily brain training exercises and math drills and is another with a high customer rating. Answer 50 math questions as quickly as you can in the Take the World Challenge and compete against people all around the world. Players can also use charts to track their progress and we think this is a great way to keep your math skills honed.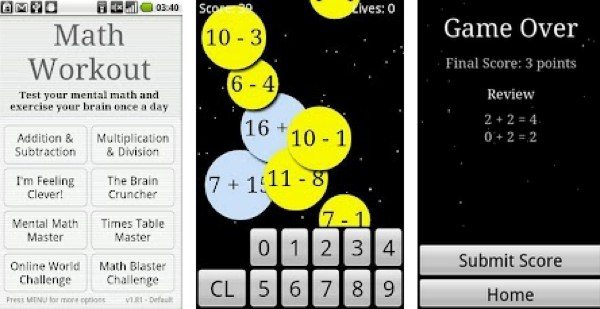 We hope that our selection of math problems apps will provide some useful and fun ways for learning math or brushing up skills and that at least one of these will be a good choice for you. Let us know how you got on by sharing your comments with our readers.