Pre-order new Tabeo 7-inch Kids Android-based Tablet
If you are a bit fed up with having to hand over your tablet to your children to keep them entertained, and thus losing out on your precious tablet using time, you just might think it's about time your kid had their own slate to play with, and if so perhaps you might like to consider the Tabeo, a 7-inch Android based tablet that has been designed for kids.
According to an article over on Hot Hardware, the Tabeo 7-inch Android tablet is currently available to pre-order from Toys R Us, and commands a very reasonable price tag of $149.99 with free shipping, whilst the new kid's orientated Android slate is expected to become available in stores only sometime in October.
The Tabeo Android tablet is for kids of six years of age and up, and offers the user a 7-inch touch screen along with a front facing camera, a 1GHz processor, 4GB of storage, microSD expansion up to 32GB, a child friendly interface, HDMI out for viewing videos and images on your TV, WiFi, and flash support, and runs Android Ice Cream Sandwich.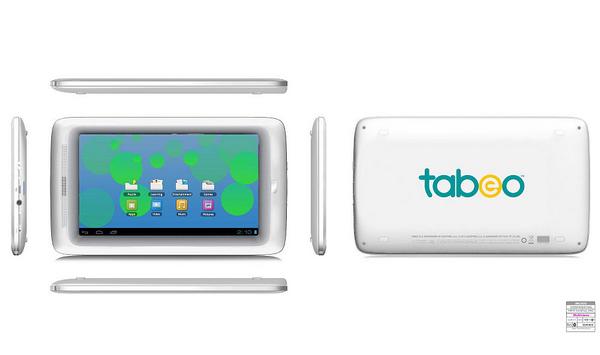 The Tabeo tablet also comes with 50 preloaded educational apps, books and games, and offers access to over 6000 free downloadable apps available from the Tabeo Store, parental controls for blocking inappropriate content, and even comes with a drop safe bumper.
The Tabeo Android tablet measures 9.2 x 8.4 x 2.0-inches and weighs in at 1.7 pounds, with a lithium polymer battery said to deliver 10-hours of normal use, 6 to 7-hours of video playback time, and 35-hours of music playback time.
So there you have it, if you have been pondering on purchasing an Android slate for your child, if you think the Tabeo Android tablet is the one that will suit your child, you can pre-order the slate by hitting up Toys R Us US.