New Asus Vivo Windows 8 tablet in two flavours
The tablet market is becoming all the more crowded with a number of devices being released, and this is set to grow more in the coming months with the release of Microsoft's Windows 8 operating system. The upcoming Asus Vivo Windows 8 tablet will be in two flavours and we have a report looking at the device.
Asus recently showed off its new line of Windows 8 devices at the IFA event in Berlin, and the guys over at The INQUIRER managed to spend some time with the upcoming hybrid notebook tablet called the Vivo Tab.
The device will be the first hybrid from the company that will come running the full version of Windows 8, and connects to a keyboard to form a notebook. The device reminded you more of a traditional laptop but with a removable display, but like other upcoming Asus releases details of the full specs for the device are still limited.
Asus has decided to keep a more typical brushed metal finish on the keyboard dock that has a feel of quality to it, and the design reminded the team of the MacBook Air. The keys on the QWERTY keyboard had a quality feel to them, and the trackpad was also nice to use, but did fail to respond to some commands.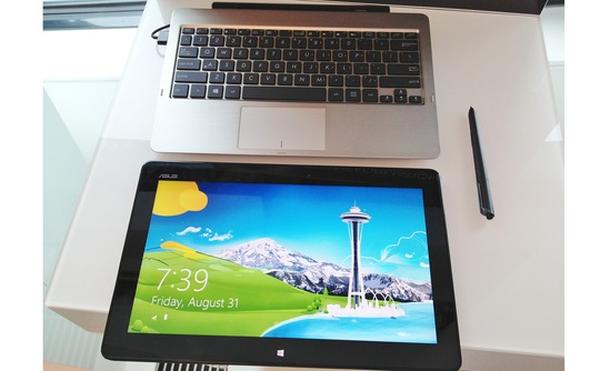 Using the display as a traditional tablet it felt a bit on the large size and its weight of 657g made it feel slightly on the heavy side, but the form factor is nice and slim measuring only 8.7mm thick. It was found easy to pull the tablet out and push it back into the keyboard though, and stayed docked with no concern it may fall out.
The device will come with the Wacom digitiser stylus that the manufacturer promises will provide a "more natural writing experience". This wasn't tested though but the 11.6-inch HD display was found to be dazzling and vibrant despite its 1366 x 768 screen resolution. One possible problem with the display is that the screen has a glossy finish, so in bright sunlight may become an issue.
In use the UI was restricted to a home screen so the Windows 8 OS couldn't be used, but in the short test that was carried out the Vivo Tab was found to be pretty responsive. The device will come with 32GB of on board storage and can be used for up to thirteen hours on a single charge, and the keyboard dock will provide extra battery capacity.
Asus is planning on launching the device during October and prices have yet to be revealed, but it is thought to cost in the £700 region. Will you be getting a Windows 8 tablet?