iPhone 5 A6 chip running A15 cores beats Samsung
The Apple iPhone 5 was officially announced yesterday and we've been bringing readers all the details. One of the first things covered in Apple's keynote speech was the introduction of the new A6 chip, a step up from the A5 used in the current iPhone 4S and Apple claims this new processor will offer speeds up to two times quicker than the older A5. Now we have learned that the iPhone 5 A6 chip is running A15 cores, beating Samsung in bringing them to the market.
We've already given pre-order, price and release details for the iPhone, a specs contrast with other hot smartphones, news on how you can now see a video of the Apple keynote and much more but now we want to focus more on the A6 processor for the next iPhone. The A6 chip (S5L8950X) was widely rumored but although it has now arrived in the iPhone 5, Apple has kept rather quiet about its architecture and aspects such as clock speeds and core counts. However, as you would expect the new processor is already being scrutinized by various tech sites that have managed to unearth more information.
A report on iDownload Blog tells of an AnandTech article where we're informed, "Based on the performance gains, Apple's history of SoC naming and some other stuff we've heard recently, it looks like Apple has integrated two ARM Cortex A15 cores on Samsung's 32nm LP HK+MG process." While this may sound confusing to the layman it shows that Apple has managed to get the A15 core out before Samsung or TI and other licensees such as Broadcom and NVIDIA even though they had all announced upcoming implementations of it.
Some of the products that have already been officially introduced but not released yet are Samsung's Exynos 5250, NVIDIA's Tegra 4 and TI's OMAP 5 application processor. Both the previous A5 and A5X Apple chips use Samsung's 45-nanometer process and ARM's Cortex A9 CPU core but ARM says that the A15 core is 40% faster. The fact that the new iPhone now has more power than its predecessor doesn't seem to have affected battery performance negatively either and according to Apple usage times have actually improved slightly in some aspects.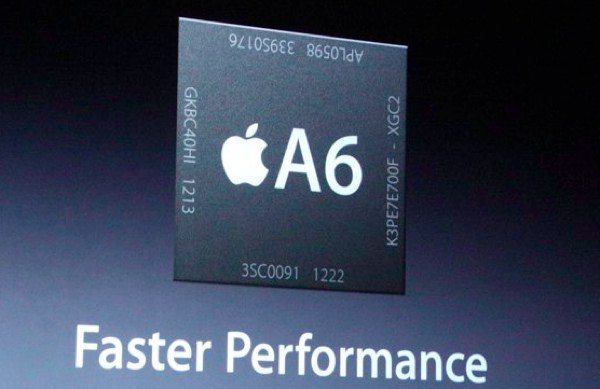 Although the actual core count still appears to be unclear depending on what reports you look at, AnandTech does say that the increase in performance of the GPU, "could be had through a move to 4 PowerVR SGX543 cores, up from 2 in the iPhone 4S." Looking at the finer points of the new A6 chip is intriguing stuff and no doubt we will soon be seeing the results of benchmark tests to see just how fast the iPhone 5's processor is compared to other hot phones of the moment.
We'd like to hear your thoughts on the iPhone 5 and its much-improved processor. Is this one of the factors that's likely to persuade you to purchase the new iPhone? Maybe you feel the iPhone 5 doesn't offer you as much as you'd like or perhaps you'll be first in line? Send your comments to let us know.