Droid RAZR M for less bucks than Verizon
If you are over in the good old US of A and have been contemplating picking up the Motorola Droid RAZR M smartphone from Verizon, who put the Android smartphone up for grabs the other day for a sub-$100 on signing up for the usual two-year term, but would like to pay even less that what Verizon is asking, it looks like you are in luck.
According to a report over on Phone Arena by way of Android Police, those Android faithful in the United States that would like to own the Motorola Droid RAZR M, can grab the Android Ice Cream Sandwich handset for less that that 99-bucks Verizon wants by heading on over to Wirefly.
Apparently Wirefly are offering the Motorola Droid RAZR M on Verizon Wireless in both black and white models for just $79.99 with a new Verizon Wireless account, so by hitting up Wirefly you could save yourself a nice cool 20-bucks.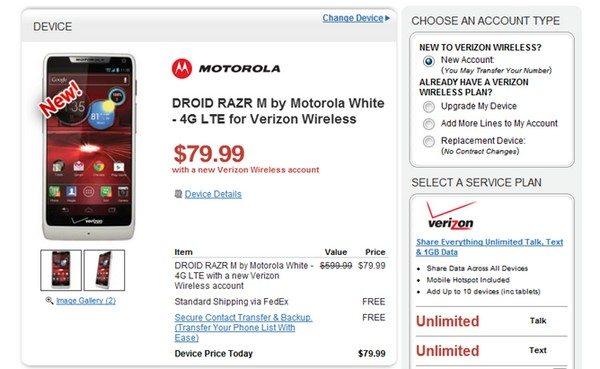 For those that might still be pondering on whether to purchase the smartphone, the Motorola Droid RAZR M offers a 4.3-inch Super AMOLED Advanced edge-to-edge display along with Corning Gorilla Glass, an 8 megapixel rear facing auto-focus camera with LED flash, a 0.3 megapixel front facing shooter, 1.5GHz dual core processor, 1GB RAM, 8GB internal storage, microSD expansion up to 32GB, 4G LTE, and Mobile Hotspot up to 5 devices on 3G and up to 8 devices on 4G.
So there you have it, if you have been tempted to snap up the Droid RAZR M from Verizon, then why not go with Wirefly are save yourself a few extra bucks. Any of our US readers going to be purchasing the Droid RAZR M in the not too distant future?