Samsung Galaxy Note 2 vs Nokia Lumia 920 enters the ring
This is the time of year when the smartphone market is rising to a peak in time for the holiday season and there are some great new phones becoming available over the next few weeks. Two that have now been officially announced are the Samsung Galaxy Note 2 (Note II) and the Nokia Lumia 920, both flagship devices with a lot riding on them. We thought it would be interesting to compare the Samsung Galaxy Note 2 vs. the Nokia 920 as they enter the ring.
The Galaxy Note 2 is due for release next month in some regions such as Europe, Asia and the Middle East and sometime later in Q4 for other regions such as the US and Canada. Meanwhile the Nokia Lumia 920 is also expected to launch in Q4. Both phones have received a huge amount of attention and the Galaxy Note 2 uses the Android operating system while the Lumia 920 uses Windows Phone. This alone may be enough to make up the minds of some purchasers but let's look at what else each has to offer.
Firstly we'll start with the key features and specs of the Samsung Galaxy Note 2 and this has a 1.6GHz Exynos quad-core processor, massive 5.5-inch Super AMOLED display with resolution of 720 x 1280, 2GB of RAM and internal storage of 16, 32 or 64GB expandable via microSD card. It also has GSM, HSDPA and LTE connectivity, an 8-megapixel rear camera with 1080p video capture and 1.9 front-facing camera, Bluetooth 4.0, WiFi 802.11 a/b/g/n, NFC and a 3100mAh battery. It comes in Titanium Gray and Marble White color options and weighs 180g with dimensions of 151.1mm x 80.5mm x 9.4mm and there's also the handy edition of the S Pen stylus. It runs on the very latest Android OS, 4.1 Jelly Bean. Some great specs then, that will impress many.
Compare this with the Nokia Lumia 920 where the overall specs may not be so good although it does looks extremely stylish. The Lumia 920 has a 1.5GHz Qualcomm Snapdragon dual-core Krait processor, 4.5-inch IPS TFT display with resolution of 768 x 1280, 1GB of RAM and 32GB of internal storage (not expandable). It also has GSM, HSDPA and LTE connectivity, an 8-megapixel rear camera with the much admired PureView technology and 1080p video capture, plus a 1.3-megapixel front-facing shooter. Add to that Bluetooth 3.1, WiFi 802.11 a/b/g/n/, NFC and a 2000mAh battery. Color options are black, gray, red, yellow or white and it weighs in at 185g with dimensions of 130.3mm x 70.8mm x 10.7mm. As you can see then, although some of the specs may not be as great there's still plenty to impress and the camera in particular has been highly praised. This one will run on the new and upcoming Windows Phone 8 OS.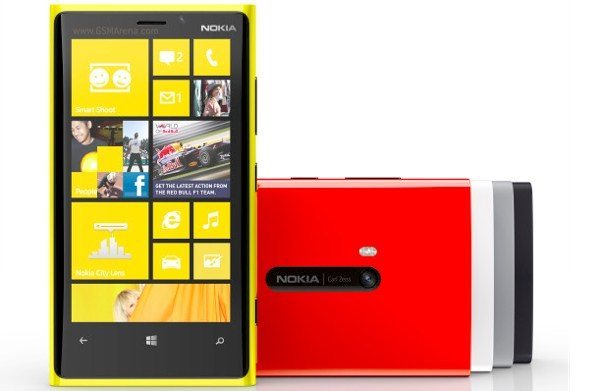 Any decision between the two will be down to personal preference, for instance fans of larger screens are likely to favor the Note 2 but those who use their phones a lot for photography may prefer the Lumia 920. It's fair to say that Samsung is likely to have another hit on its hands following the success of the original Galaxy Note. Meanwhile Nokia and Microsoft have a lot riding on the Lumia 920 with the new Windows Phone 8 OS in their bid to encroach upon the Android share of the market.
It looks likely to be an interesting few months ahead and we'd like to hear your thoughts on these two smartphones. Have you already made your decision to purchase one of these two upcoming smartphones? If you have, what was the deciding factor for you? Let us know with your comments.