iPhone 5 A6 processor is indeed Apple SoC ARMv7
We've been bringing you all the news about the just-announced iPhone 5 and continue to find out more information about this much-anticipated Apple smartphone. The fact that it will be a huge seller is a done deal and one of the reasons it has impressed is its new A6 chip, offering vast performance improvements. Today we have additional news on the iPhone 5 A6 processor, as we now know that it is an Apple SoC ARMv7.
Previously when we discussed the new A6 processor of the iPhone 5 we reported information that it was running A15 cores as told by AnandTech at that time. Now however, a new article on AnandTech has clarified the new discovery that in fact this initial info was inaccurate and now reports that the A6 Apple SoC is in fact the first to use Apple's own ARMv7-based design. It seems that just before Apple's iPhone 5 announcement AnandTech was informed that the processor in it would be different from the ARM Cortex A9 as used in the A5 processor. Because of Apple's previous reliance on licensed ARM cores the site assumed that two ARM Cortex A15 cores would be used on the new SoC. However the new report holds its hands up to the fact that this was wrong and goes on to explain much more about the A6 SoC.
Instead of the new CPU being based on the ARM IP A9 or A15 design it has now been discovered that rather pleasingly it's based on Apple's own development. If you want to find out just how this was deduced rather than the initial assessment of A15 cores it's rather convoluted but you can check out the full details at the AnandTech link above. However the end result is that the A6 is indeed an ARMv7 core created by Apple. Although there had previously been talk of Apple coming up with its own ARM-based CPU core there was also talk of Apple having some problems with this. Therefore the chance that the new A6 SoC could be one developed by Apple was overlooked, although now we know otherwise.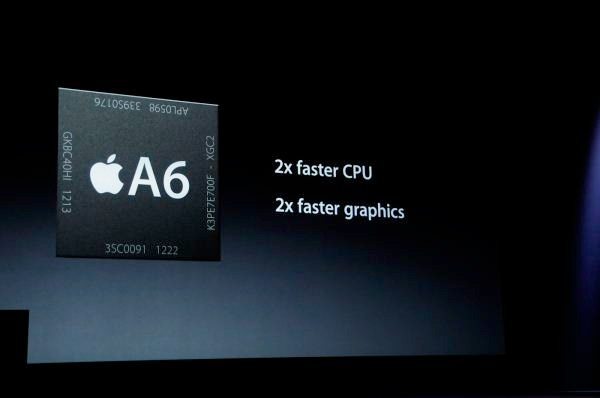 What we still don't know though is further details on the custom core design but no doubt we'll be hearing more on this. You may also be interested in our previous article regarding first benchmark results on the new A6 processor where Apple's claims that it's up to twice as fast as the A5 seem to be verified. We'd like to hear your thoughts on Apple's A6 chip for the iPhone 5 and if you are impressed with what has been uncovered so far? Send your comments to let us know.