iPhone 5 is a performance monster say tests
When the iPhone 5 was first announced last week, Apple claimed that the new A6 processor would give speeds of up to two times faster than the previous A5 chip. At the time we said that was a big claim and that people would soon be testing that out to see if it was accurate. As expected, the first benchmark test results arrived pretty swiftly and it seems that Apple's claim was completely legitimate and that the iPhone 5's processor is indeed a performance monster.
We've been posting many iPhone 5 articles and recently told more about the new A6 chip and how we couldn't wait to see some benchmark tests on performance. Now those results are in it has been shown that the A6 processor is around twice as fast as any other existing iOS product chip. The iPhone 4S scored a benchmark of 641 in previous tests, while the new iPad (3G/4G) scored 794. The results of the new benchmark tests on the iPhone 5 gave it a score of 1,601, easily beating the A5 and A5X processors in the other two products we've mentioned.
These benchmark tests were conducted by Geekbench, as reported by Cnet, and assuming the results are accurate it looks as though a whole lot of people will be impressed with the performance of the iPhone 5 when they finally get their hands on it. The same tests also showed that because the A6 chip is better at processing instructions it manages extra performance even though it is clocked at 1GHz.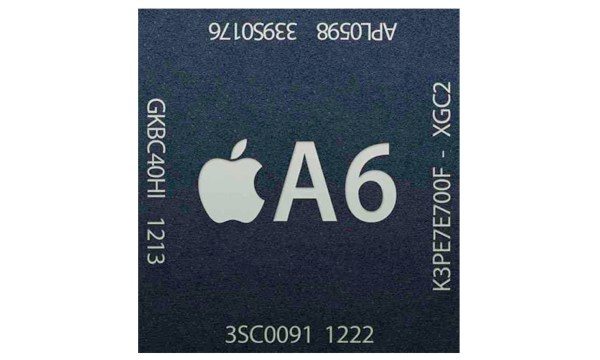 When we published the full specs for the iPhone 5 we also told how it was thought to have 1GB of RAM, although at that time this was not confirmed. However another report, this time from AnandTech, has dissected all the information and managed to verify that the iPhone 5 does have 1GB of RAM. This was uncovered from a slide of the A6 chip that Apple showed at the event last week where a Samsung part number was clearly revealed, K3PE7E700F-XGC2. The Samsung product guide then detailed this as being a "dual-channel LPDDR2 package with 32-bit channels," and also revealed 1GB of RAM in total from two DRAM die with 512MB per die.
At the weekend we told how the unprecedented demand for the iPhone 5 had even taken Apple by surprise and these new results look set to increase that demand even more. We'd like to hear your thoughts on the iPhone 5 and its new A6 chip. Had you already decided to purchase the new iPhone? Maybe these benchmark results have helped you to make up your mind to make the iPhone 5 your next choice of smartphone? Let us know with your comments.