Motorola Droid RAZR HD US Verizon release may be October
We like to keep our readers informed with all the developments regarding release dates for upcoming smartphones but sometimes waiting for a launch seems to drag on. That's the case for the Motorola Droid RAZR HD, which we know is heading to Verizon in the U.S. but customers have been waiting for far too long to hear a release date. Now we are seeing a glimmer of hope for the Droid RAZR HD as it looks as though the release is coming in October.
We've been writing about the Droid RAZR HD for Verizon for many months now and back in July we told how it had passed through the FCC, usually a good sign of an imminent release. At that point it looked very much as though the Droid RAZR HD would arrive with Big Red before the end of the summer. By the middle of August there were rumors that the phone would not be available at some point in October or November, news that disappointed many people. However, when a Motorola event was announced for September 5 it raised hopes that Verizon would issue the phone sooner rather than later.
The event occurred as expected and although the Droid RAZR HD was made official there was still nothing specific about a US release date other than some time before the end of the year. Hopefully we have learned a little more today from Droid-Life who tell how Motorola has announced that the RAZR HD will be available in Germany in October. If it can launch in Germany in October this would appear to be a good sign that the Verizon Droid RAZR HD could also arrive in October. As Droid-Life points out, it seems unlikely that after going to the trouble of a big RAZR HD event in the US that Motorola and Verizon would allow consumers in Germany to get their hands on it first.
When we first started informing readers about the Droid RAZR HD there was a huge amount of interest in this phone. Certainly though, some people may have started to lose interest, particularly with phones such as Samsung's Galaxy Note 2 and the Apple iPhone 5 coming soon with no firmer news on a release date for the Droid RAZR HD. We can only hope that those who are still patiently waiting feel that it's worth waiting a few more weeks to get their hands on it when it finally arrives.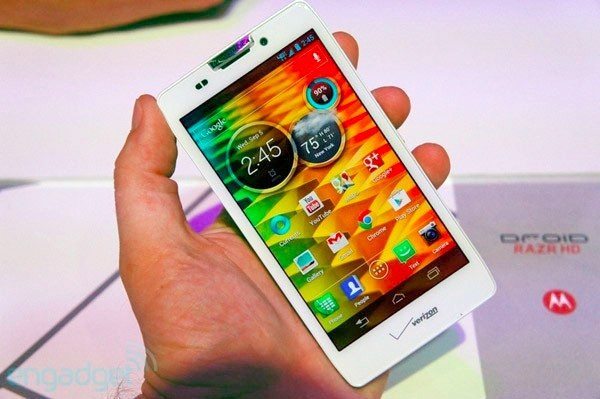 As a brief reminder of specs we can tell you that the Droid RAZR HD on Verizon will have a 1.5GHz dual-core processor, 4.7-inch 720p display, 8-megapixel rear camera, 2500mAh battery and it will run on Android 4.0 Ice Cream Sandwich. Hopefully then, the Droid RAZR HD will be released next month but while we wait we'd like to hear from readers about this Motorola smartphone.
Are you still waiting for this to be released or maybe you gave up weeks ago? If you're still holding on for the Droid RAZR HD then how much longer are you prepared to wait? Let us know by sending your comments.