Motorola Razr i October release and gripping details
A few days ago we informed readers about a joint Motorola and Intel event in London and how it was widely believed we would be seeing the first Motorola device featuring an Intel processor announced. The event has now taken place and lo and behold the Motorola RAZR i has been been debuted. It's scheduled for an October release and we have some of the details for you.
There has been talk of a Motorola smartphone featuring an Intel CPU for some time and previous rumors suggested an HD display and that it would be running the Android 4.0 ICS operating system. Now we have official details for you and Motorola seems pretty pleased with itself referring to the RAZR i as its "biggest launch in the UK since the original RAZR". The Motorola RAZR i handset will use a 2GHz Intel Atom processor, has a 4.3-inch AMOLED display, 8-megapixel rear camera with dedicated camera button, NFC, 2000mAh battery and get this, water-repellent Kevlar casing.
According to the press release, which you can see on Engadget, the RAZR i will release running Android 4.0 ICS with an upgrade to 4.1 Jelly Bean coming at some point. For those who like tinkering with their devices there's also good news as the Motorola RAZR i will hit the shelves with an unlocked bootloader. The phone will release in parts of Europe and Latin America next month including the following countries, UK, France, Germany, Argentina, Brazil and Mexico, with more countries to follow. However there are no firm details yet on whether it will be available in the US and Canada at some point. It will launch in black and Motorola says a white color option will also appear for some markets. You can see more on the RAZR i at this Motorola product page.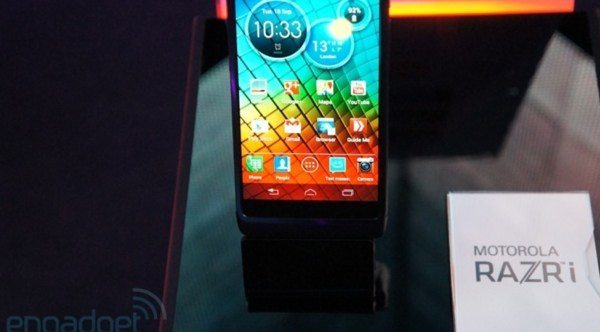 You may also be interested in a hands-on experience reported by Engadget who were lucky enough to spend some time with the phone at the event. A video was made of this and we've embedded it below our story if you want to get a closer look of the RAZR i. Further details learned are that the phone has microSD expansion and the display was described as "decently bright, if a little jaggy."
We'd like to hear your first impressions on the Motorola RAZR i smartphone so let us have your comments. Does this seem like a phone that would interest you? Are you keen to take a look at Motorola's first phone with an Intel processor?