Samsung Galaxy Nexus 2 GT-i9260 aka Premier pipeline
Following the success of the Samsung Galaxy Nexus smartphone it's no surprise to hear that a successor seems to be in the pipeline. The Samsung Galaxy Nexus GT-i9250 is also known as the Google Galaxy Nexus phone and was released in a blaze of publicity. Now we are hearing leaks of an upcoming smartphone, the GT-i9260, which looks to be a follow-up. It could be named the Galaxy Nexus 2 (Nexus II) or another possible name is the Galaxy Premier.
This news will please a lot of people who love the pure Google experience and a few details about the GT-i9260 have been uncovered from a User Agent Profile as reported by Pocketnow. Information so far suggests a phone with a display resolution of 1280 x 720 but there's a lot of confusion surrounding the processor that will be used. It's likely to be an ARM11 or an ARM Cortex-A11. The ARM 11 was used in the Nokia 808 PureView and also the HTC Dream but it might be more likely to be the ARM Cortex A-11, stepping up from the TI 1.2GHz Cortex-A9 dual-core processor of the current Galaxy Nexus.
There were apparently earlier rumors concerning the model number GT-i9260 and that it might have an improved 1.5GHz A9 dual-core processor but at this stage it's all rather unclear. All we can really surmise is that the so-called Galaxy Nexus 2 or Google Nexus 2 is likely to have either a faster dual-core CPU or move up to a quad-core. Pocketnow also raises the point that the SoC denomination of the User Agent Profile could be a placeholder as sometimes happens so for now it's anybody's guess.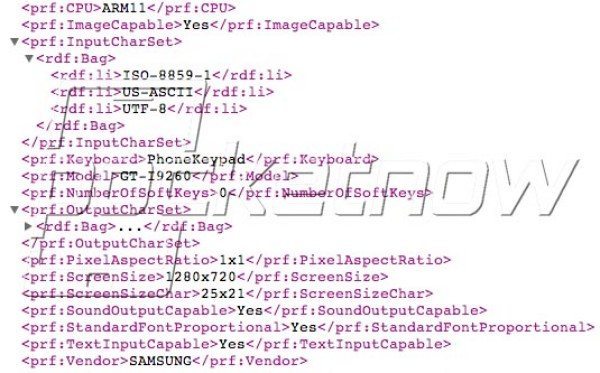 One more detail given is 2GB of RAM, which would sound like a logical improvement as other recent handsets are moving to 2GBs and in one further update we have learned the possibility that this GT-i9260 could even be called the Galaxy Premier, just to confuse issues even further.
We'd like to hear your thoughts on the possibility of a Galaxy Nexus 2 or Premier. Maybe you're the owner of the original Samsung Galaxy Nexus and would welcome a new improved version? Let us have your comments regarding the GT-i9260.