iPhone 5 O2, Orange and Vodafone UK, preferable choice
The iPhone 5 will release in just two more days although if you haven't already pre-ordered it may be too late to get one for launch day. This Apple smartphone is set to fly off the shelves and set new records so you can always try your luck in line at retail stores on Friday. Today we want to give our UK readers news on buying the iPhone 5 at O2, Orange or Vodafone so that you might be able to decide which is the preferable choice for you.
We'll give you some pricing and pre-order details for the iPhone 5 of three of the UK's major carriers starting with O2. Pre-orders are available at this O2 page where you can see a tariff selector. Simply use the options to select whether you're an existing O2 customer or new customer and whether you want to pay monthly, pay & go or are a business customer. Note that if you want pay & go that will be available at launch from retail stores. You'll also get a choice of white or black colour options and 16,32 and 64GB models.
As an example of price for existing O2 customers who want to pay monthly, tariffs start at £26.00 per month for a 24-month tariff giving you unlimited texts, unlimited minutes and 1GB of data and a phone price of £249.99. That's for the 16GB model. Other tariffs are also available and to get the 16GB phone free another tariff is £46.00 per month for a 24-month tariff, with unlimited texts, unlimited minutes and 1GB of data.
Moving on to Orange if you wish to pre-order head to this Orange page where you'll find two options for pre-orders, one for existing Orange pay monthly customers who wish to upgrade and one for those who want to join as a pay monthly customer. Again if you want pay as you go you cannot pre-order but there is a phone number to ring for more information and that also applies to business customers. One differentiation for Orange users of the iPhone 5 is that it you can get the 4G LTE version meaning you'll be able to use it on EE's superfast network when it launches. O2 and Vodafone users won't be able to take advantage of 4G LTE connectivity.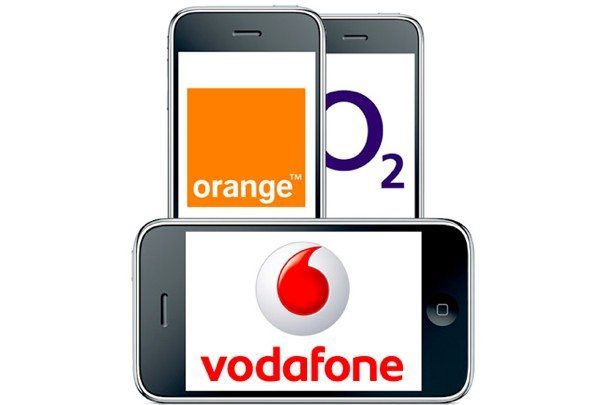 Pay monthly plans for the iPhone 5 on Orange begin at £36.00 per month for the 16GB iPhone on a two-year contract. The phone price is then £110 and the tariff will get you unlimited anytime minutes, unlimited texts, BT WiFi, unlimited push email and internet browsing. If you don't want to pay extra for the handset there's another 24-month tariff where the 16GB phone itself is free (returnable deposit) and the plan is priced at £46.00 per month for unlimited texts, unlimited minutes and 3GB of Internet.
We then turn to Vodafone and this Vodafone page is available for pre-orders. Again there are different sections for existing customers and those who want to join Vodafone. For new customers there are various plans available such as a 24-month tariff where you'll pay £49 for the 16GB phone and £42 per month. That will get you unlimited texts, unlimited minutes and 2GB of data. To get the actual 16GB handset free you'll need a plan such as a 24-month plan at £47 per month. That will buy you unlimited texts, unlimited minutes and 2GB of data.
The iPhone 5 is available in 16, 32 or 64GB storage models and all of the prices we've given are for the 16GB version. Higher storage models will obviously cost more and there are varying delivery times on each site for the different iPhone 5s. It can be a minefield navigating through the various deals available but hopefully this will give you some idea of your options. Simply click on the carrier links to find out more on each. What may be a good plan for some may not be suitable for others so choosing the right option really depends on your phone usage and requirements.
We'd like to know if you will be buying the iPhone 5 on a UK network carrier and if so, which will you choose? How did you decide on the right deal for you? Let us know with your comments.