Asus Padfone 2 box reveals specs before unveiling
The original Asus Padfone was released back at the beginning of the summer and was somewhat of an innovation. A hybrid package consisting of a smartphone that slotted into a station to create a tablet, it soon won plenty of fans. Now we have some leaked news about the Asus Padfone 2 although the details are only about the smartphone end of the Padfone.
Firstly we should start by pointing out that this leak came from a user on a Chinese forum who supplied an image purporting to be the back of a box packaging the Padfone 2. We certainly cannot verify the following specs although a lot of it rings true and tallies with what we would expect. However there's also one slight flaw with the supposed box packaging that makes us question whether it's the real deal or not.
The details on the back of the box say that the Padfone 2 is model number A68 and that would certainly follow on nicely from the original Padfone (pictured above), which was the A66. Specs and features listed include a 1.5GHz Qualcomm quad-core processor, 4.7-inch Super iPS display with resolution of 1280 x 720, 2G of RAM, 13-megapixel rear camera with HD video recording, zero shutter lag LED flash and autofocus and a 1.2-megapixel front-facing camera.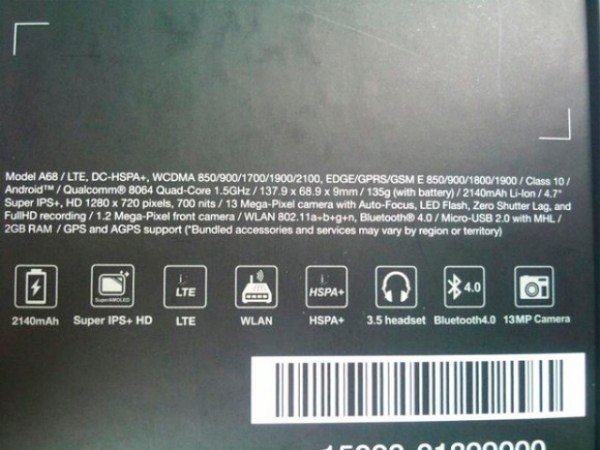 There's also WiFi a/g/b/n, Bluetooth 4.0, microUSB 2.0 with MHL support and a 2140mAh battery. Dimensions are 137.9mm x 68.9mm x 9mm and it weighs 135g according to SlashGear, sourced from the MobileO1 forum. The one snag is that the icon for the display reads Super IPS+ HD while the image in the box reads Super AMOLED. This could be a sign of the purported Padfone 2 box being fake or could simply be a mistake on the packaging.
Either way we should know in a few weeks as Asus is expected to reveal the Asus Padfone 2 on October 16. Do you like the idea of the Asus Padfone and would you be interested in a Padfone 2? Maybe you have the original Padfone and have really enjoyed using it, or not? Let us know what you think by sending your comments.