iOS 6 leaves Apple's mobile operating system in a mess
Technology giant Apple has been busy in the last couple of weeks after first showcasing their latest smartphone, and then releasing both iOS 6 and the iPhone 5 to the masses. Trouble is things have not been running at all smoothly for the fruit based company, and it seems iOS 6 leaves Apple's mobile operating system in a mess.
We have already spoken about the issues surrounding the new Maps feature of the software, but according to ITProPortal for the first time in the history of iOS the operating system is a mess. It has to be said that some of the changes to iOS 6 are good, but the likes of Maps, iMessage, Passbook, and the tighter social media integration leave a lot to be desired with a lot not working.
It seems the company is trying to do too much, too soon with the Apple Maps feature being the biggest problem. In the US the feature may just about be acceptable, but overseas it's a different story with the application becoming unusable, especially in the UK.
One politician has already spoken out about the issue calling Apple Maps "dangerously misleading", this comes after a 35-acre farm became labelled by the app as an airport. Ireland's Justice Minister Alan Shatter, has stated that he has informed the company of the incorrect information, and "requested that it be urgently corrected".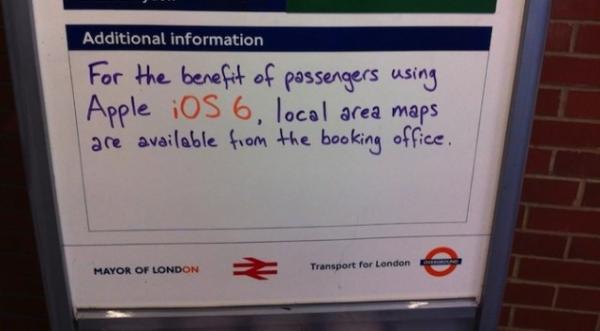 Users in the US have complained about the 3D Flyover mode with issues such as the flattening of the Statue of Liberty, and certain portions of cities looking like something out of a Call of Duty Zombie game. There are also Chicago skyscrapers labelled as gas stations along with a number of spelling errors and other mislabelling issues.
The tighter social media integration has also been a problem with posting updates to Facebook and Twitter from a number of apps, which only works when it wants to. Some have also found that Siri has returned to being slow when providing responses.
iMessage has for some become unstable in iOS 6 more than any time since its release, and continues the frustrating time users have been experiencing since downloading iOS 6. Passbook for instance would have worked a lot better if NFC compatibility had been added to the iPhone 5, and maybe Apple should have kept Google Maps on iOS until Apple Maps was running correctly.
Meanwhile an article over at TechCrunch is reporting that Google is working on getting Google Maps into the App Store. A source is claiming that the search engine giant is looking to have the app available before Christmas, and it is already awaiting approval from Apple, but it is debateable whether Apple will give the Google Maps app the go ahead.
Do you think Apple will approve the Google Maps app?