Funny Samsung Galaxy S3 commercial loves iPhone 5
Regular readers and tech enthusiasts are probably a little bored by now of the cat and mouse game between Apple and Samsung every time a new iPhone or Galaxy S iteration comes out. The iPhone 5 was released on Friday and even before the launch Samsung was releasing ads getting in the usual digs at the new phone. However although the tit-for-tat can get tiresome sometimes the ads and commercials can be quite witty, as in the case of the latest funny Samsung Galaxy S3 ad that makes fun of the iPhone 5.
We previously told how Samsung ads comparing specs of the Galaxy S3 to the iPhone 5 had provoked Apple fans to hit back with an ad of their own. Although these ads are sometimes taken too seriously by both iOS and Android users and can be quite close to being offensive we actually find some of them amusing. Many sensitive Apple enthusiasts could easily feel quite insulted by the new commercial that once again portrays iPhone fans as sheep as they stand in line. However we'd like to ask people to put their sensitivities to one side and judge the ad purely on comedic terms.
You can see the commercial in a video that we've embedded for you below this story and it starts off with an inevitable line outside a supposed Apple store as people wait for the iPhone 5 to go on sale. Various fanboys/girls are seen making inane remarks such as one guy saying incredulously, "the headphone jack is going to be on the bottom," then making a gesture indicating this blows his mind. As the commercial goes on we then see another man standing in line but he's a Galaxy S3 user and merely holding a place in line for somebody. The people he's standing in line for eventually turn out to be his somewhat middle-aged parents, definitely not cool. (I'm ignoring my own age here!)
The commercial, brought to our attention by Cult of Mac, goes on in much the same vein with more people arriving who say they've moved on to the Galaxy S3. Seeing how much the S3 has to offer, the people in the Apple line seem to become less and less sure about the iPhone 5. The tagline reads, "The next best thing is already here." Regardless of where you stand on the long-running Apple vs. Samsung saga this is a clever commercial. When you think about it you wonder if Samsung could ever win Apple fans over by continuing to portray them in this way but ultimately it's still funny, whether it works or not.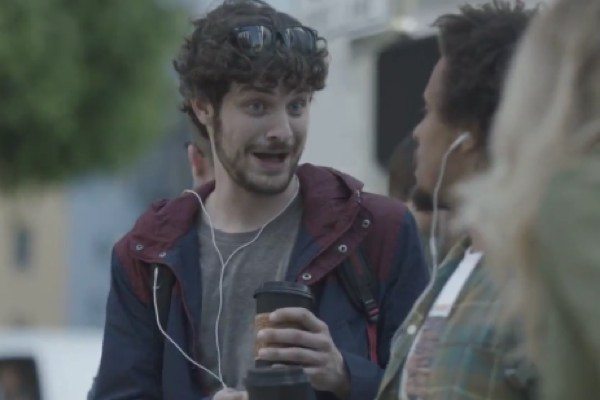 Before you all accuse us of being anti-Apple or anti-Samsung we'll point out that we're pro-both and pro-choice. Whether this commercial had been made by Samsung about Apple or indeed Apple about Samsung, we still think it's smart and worth taking a look at. After all, were smartphones ever meant to be taken that seriously!
Take a look at the commercial below and let us know what you think. Are you an Apple fan but can still see the funny side of it? Would it make you think again about buying an iPhone 5, or maybe it backfires and would just make you not buy a Samsung product? We're intrigued to hear from readers on this one so let us have your comments.