Nokia Lumia 820 vs HTC 8S WP: Budget Phone Shootout
The Windows Phone operating system may only account for a small amount of the smartphone market at the moment but its popularity is slowly growing. The new Windows Phone 8 OS arrives next month and will be followed by the first devices launched running it and today we thought we'd take a look at two of the new phones that will use WP8, the Nokia Lumia 820 vs. HTC 8S in a budget shootout.
We recently told how after the recent Apple vs. Samsung patent litigation more and more manufacturers are turning to Android alternatives and so it's likely we'll see the Windows Phone OS platform increasing in popularity over the next few years. Neither of these phones are flagship devices, those spots are taken by the Lumia 920 and the HTC 8X, but still the Lumia 820 and HTC 8S are decent enough mid-range handsets at a good price. Both of these phones are heading for a November release.
First we'll give you a taste of specs and features for the Lumia 820 and they include a 1.5GHz Qualcomm Snapdragon S4 dual-core processor, 4.3-inch AMOLED ClearBlack display with resolution of 800 x 480, 1GB of RAM, 8GB of internal storage (expandable to 32GB via microSD), 8-megapixel rear camera with dual LED flash and autofocus along with a VGA front-facing camera. If you were hoping it has the PureView camera of the Lumia 920 though then you may be disappointed that it does not. The Lumia 820 also has NFC, Bluetooth 3.1, WiFi 802.11 a/b/g/n, a 1650mAh battery and Qi wireless charging. Dimensions are 123.8mm x 68.5mm x 9.9mm and it weighs 160g.
Next we'll look at the HTC Windows Phone 8S and this has a 1GHz Qualcomm Snapdragon S4 dual-core processor, a 4-inch Super LCD 2 display with resolution of 800 x 480, 512MB of RAM and 4GB of internal storage (expandable to 32GB via microSD). The HTC 8S also has a 5-megapixel rear camera with LED flash and autofocus, WiFi 802.11 a/b/g/n, Bluetooth 2.1+EDR and a 1700mAh battery. Dimensions are 120.5mm x 63mm x 10.28mm and it weighs in at 113g.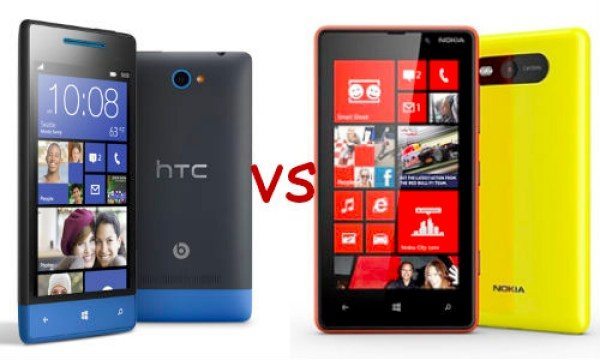 We should also inform readers that as far as storage goes the Nokia Lumia 820 and HTC 8S will also come with 7GB of free Microsoft SkyDrive cloud storage and the Nokia Lumia 820 also has LTE connectivity whereas the HTC 8S does not. As far as specs go then it looks as though the Lumia 820 has the edge with a more powerful processor, larger display, better camera, wireless charging and more. However not everybody wants a larger display and the Lumia 820 is substantially heavier than the HTC 8S. As they will both use Windows Phone 8 the user experience will be similar but although the Lumia 820 has some better specs than the HTC 8S the 8S also offers HTC Beats Audio, a better quality display and a smaller lighter package.
As the designs are also similar your choice between these two Windows Phone handsets will probably depend on what functions are most important to you in a phone. We'd be interested to hear your thoughts on these two upcoming Windows Phone 8 smartphones. If you were making a choice between the Lumia 820 and HTC 8S, which would you opt for and why? Send your comments to let us know.