BlackBerry 10 Beta 3 UI and frantic swiping
I'm sure most know that Research In Motion is placing all their hopes on their BlackBerry 10 devices to get them back into the higher echelons of the mobile space, and RIM has now unveiled their latest version of the BlackBerry 10 OS, which is to be released at some point early in 2013, and has announced the new BlackBerry 10 Beta 3 SDK, along with a new device just for developers called the Dev Alpha B.
Today, we have for our readers viewing pleasure a hands on video with BlackBerry 10 Beta 3, which comes our way courtesy of the guys over at The Verge, who managed to get hold of a Dev Alpha B handset, and took a look at the device and the new BlackBerry 10 Beta 3 operating system.
The guys say that the device is running BlackBerry 10 Beta 3, which has the feel and look that customers can expect to see on the actual BlackBerry smartphones due out next year. With the handset in sleep you can wake the device with a sweep up from the bottom of the screen, and as you perform the swipe the lockscreen fades away to reveal the operating system, and all without having to hit the power button.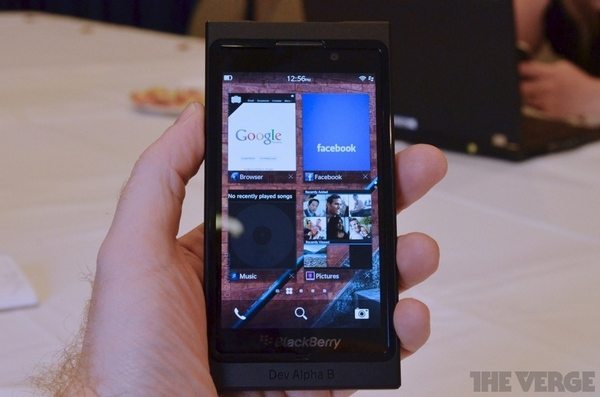 The operating system begins with a multi-paned home screen with the first screen holding up to eight 'active frames' that depict the apps currently running on the handset, and are listed in reverse chronological order with the most recent app at the top left. Four apps fit on a single screen and you scroll down to see the other four, and you close an app by hitting the 'x' in the lower right corner or by opening another app presumably.
Anyway, I'm sure you would rather head on down and mash that play button rather than have me write everything out for you to rear, so I'll leave it right there and let you hit that play button below to check out the hands on with BlackBerry 10 Beta 3…enjoy.