iPhone 5 A6 chip clocked at 1.29GHz using Geekbench
The latest darling device for Apple fans is of course the iPhone 5, and the latest iOS smartphone that the iPhone faithful are falling over themselves to get, packs the Apple A6 dual core processor, which is said to sport a clock speed of roughly 1GHz, although reports have the iPhone 5 processor ranging between 1GHz and 1.2GHz.
However, according to a report by Engadget by way of 9to5 Mac, a new Geekbench build, the latest version of the iOS app that is now available on the App Store, has revealed according to John Poole of Primate Labs, the new app consistently reports the iPhone 5 A6 processor frequency as 1.3GHz.
According to the Engadget guys, Poole spoke with them and confirmed that earlier versions of the Geekbench app had trouble determining the frequency of the A6 processor, which resulted in people claiming the A6 was 1GHz as this was the most common value Geekbench reported.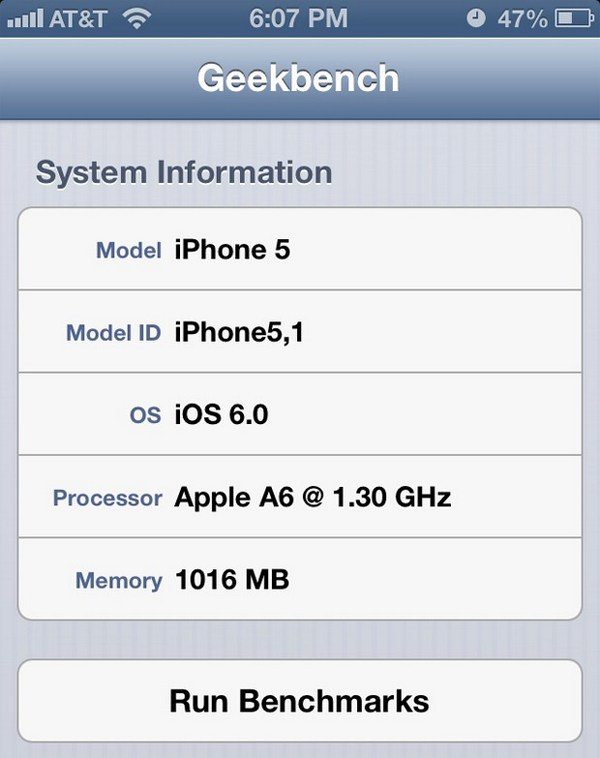 Poole remarked that he doesn't believe the A6 has any form of processor boost, and in their testing found the 1.3GHz was constant regardless of one or both cores being busy, in answer to the question whether he felt the A6 was of dynamically oveclocking itself for more demanding tasks.
The Engadget guys say their own iPhone 5 is regularly displaying 1.29GHz, whilst a tipster's screenshot (above) clearly shows 1.3GHz.
We also have a short video for your viewing consideration below, showing the new Geekbench app running on the iPhone 5 and showing 1.29GHz so don;t forget to hit that play button and check out the footage, and if you wish to check your own iPhone 5 you can grab the Geekbench app from iTunes at a cost of $0.99.