Problematic Apple Maps, try alternatives for iOS 6
If you are one of the iOS faithful you no doubt know that when Apple delivered their latest operating system, iOS 6, the company dropped Google Maps and delivered their own Apple Maps; however iOS 6 has received some harsh reviews especially when it comes to Apple's new mapping software, Apple Maps due to numerous problems such as incorrect directions, buggy 3D mapping and over simplified terrains.
Thus perhaps if you are an iPhone user with iOS 6 and would prefer to use an alternative mapping app on your device, the guys over at iDigital Times have come up with the top five Apple Maps alternatives that are available until such times as Google Maps for iOS 6 makes an appearance.
So we'll kick things off with MapQuest for iPhone and Apple iPad, and is still one of the best alternatives to Google Maps if you are using your iPhone or iPad for navigation purposes, and offers voice guided turn-by-turn directions, live traffic cameras, gas prices, and live traffic updated every five minutes along with both driving and walking directions. For those that would like to use MapQuest, the iOS app is available for free from iTunes.
Then there is Garmin StreetPilot onDemand for iOS devices, with Garmin being one of the leading navigation brands their app for iOS 6 is a fantastic alternative, with an easy to use interface, driving and walking directions, voice guided navigation, and when the user arrives at their destination, the Garmin StreetPilot onDemand app allows you to 'check in' on such social networks as FourSquare and Facebook, although the app isn't free but costs $0.99 from iTunes.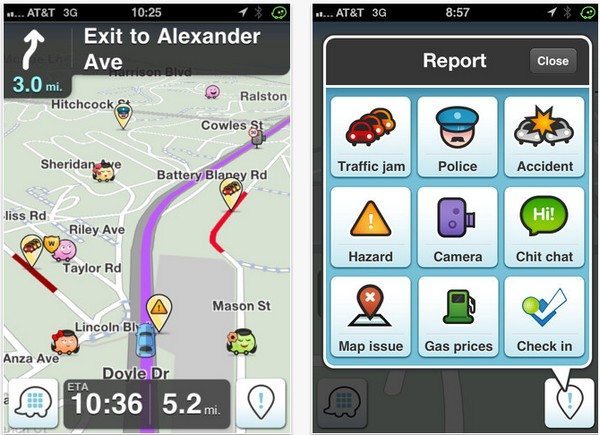 Next there is the Waze social GPS traffic and gas app for iOS, which the guys say is the best app for those that use their smartphone for navigation when driving, as the app features real time traffic updates, voice alerts, road alerts, along with different icons on the map including 'traffic jam' 'hazard' and even 'police and accident' icons. The Waze social GPS traffic and gas app is another free app that can be downloaded from iTunes.
Then there is the Route4me app, and iOS app that has been tailored for those that are taking a multi-directional road trip, and delivers route optimisation when travelling to more than a single place, along with helping travellers to connect to numerous industries such as airport shuttle services, waste collection, sales, retail furniture, real estate and more. The Route4me app is available to download from iTunes for free, although the article does say the app costs $4.99.
Last but not least is the most expensive app on the list, called Navigon North America, and is of course for the US and Canada only, that delivers turn-by-turn navigation along with an intuitive interface, with road signs easy and clear to read, and also delivers a bird's eye view of the street, a an easy to understand 3D mode, whist when driving there is a voice playback option. The Navigon North America app does command a hefty price tag though at $49.99.
So there you have it, just a few alternative mapping apps if you don't like iOS 6 Apple Maps, and of course if you are already using a mapping app rather than Apple Maps that hasn't been listed above, feel free to let us know about the app by dropping us a line to our comments area below.