Cate app for Android, the blocking filtering secrecy
Let's face it, on the odd occasion there are many smartphone users that would like to keep a text or phone call secret for whatever reason, perhaps you are arranging a surprise birthday party and don't want a certain person to find out beforehand, and so you might like to erase that particular text or call, and with the Cate app for Android you can.
Cate for Android devices is an innovative application designed to help the user keep a secret, and is a personal Call and Text Eraser (CATE) that has been utilised for privacy, security and protection with numerous features to help you communicate with others in true privacy.
The Cate app for Android features call blocking, the ability to protect your privacy with a secret number, a hidden icon so it doesn't appear on your device, SMS text blocking and filtering, the ability to begin calls, SMS and MMS within the application, and a stealth mode.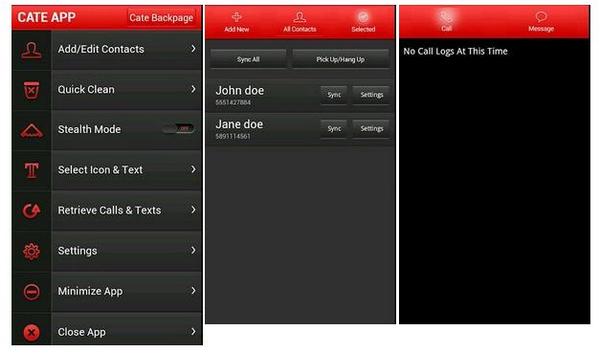 The application also offers, a quick clean of all private info, the ability to retrieve calls and texts when safe, fake notification with dummy SMS, auto reply to texts, block options for each contact including calls, SMS and MMS, auto or manual syncing, text log within Cate, the ability to add contacts from the address book or manually, and minimise the app with a shake.
The Cate app has recently been given an upgrade to feature a complete revamp, and is now compatible with Android Ice Cream Sandwich devices including the Samsung Galaxy S3, the contact list now shows as only numbers, and offers the Cate Back Page at Thatwasjuicy.com.
For those Android users that would like to take advantage of what the Cate app offers, you can download the app at a cost of $4.99/£3.22 by hitting up Google Play.