Samsung Galaxy Note 2 vs HTC One X: Enter the fray
Every now and then at Phones Review we like to compare smartphones to see how they fare against each other and the HTC One X was the original quad-core processor smartphone when it arrived back in the spring, winning many fans with the larger display that has now become so popular. The Samsung Galaxy Note 2 (Note II) is also a phone with a large display and will be out in the next few days in some regions and in the US later in October. Today then we'll look at the Samsung Galaxy Note 2 vs. the HTC One X to see what they each have to offer the consumer.
If you're in the market for a new smartphone then you'll already have noticed the sheer array that are available and that can make it very difficult to choose. Hopefully with our comparison of the Galaxy Note 2 and the HTC One X, if these are included in your last choices then this may help you make the final choice that's right for you. The HTC One X has already won a lot of interest but it's fair to say that the Galaxy Note 2 has seen a huge amount of anticipation ahead of its release and already seems set to be a huge hit. One of the main things they have in common is that they are both Android smartphones but of course there are many differences between them too. We'll take a look at some of the key specs and features of each to see how they're equipped.
Starting with the Galaxy Note 2 we told earlier today how this will be available within the next day or so in the UK. It has a 1.6GHz Exynos 4412 quad-core processor, 5.5-inch HD Super AMOLED display with resolution of 1280 x 720 and 267ppi, 2GB of RAM, 16/32 or 64GB of internal memory (expandable with microSD), whopping 3100mAh battery (swappable) and the latest Android operating system 4.1 Jelly Bean with Samsung's TouchWiz UI.
The Galaxy Note 2 also has the S Pen stylus, LTE connectivity and HSPA +, WiFi, Bluetooth 4.0, DLNA and NFC. The camera setup on the Galaxy Note 2 consists of an 8-megapixel rear camera with autofocus, LED flash, geo-tagging, touch focus, face and smile detection, image stabilization and 1080p video capture at 30fps, along with a 1.9-megapixel front-facing shooter.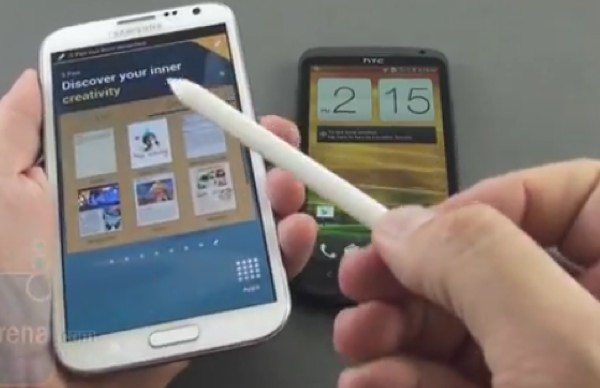 Moving on to the HTC One X this has a 1.5GHz Tegra quad-core processor (or 1.5GHz Snapdragon S4 dual-core in the US version) 4.7-inch LCD display with resolution of 1280 x 720 and 312ppi, 1GB of RAM and 32GB of internal memory or 16GB for the US version (not expandable), 1800mAh battery (sealed) and the Android 4.0 ICS OS, to be upgraded to 4.1 Jelly Bean at some point along with HTC's Sense UI.
The HTC One X also has HSPA+ for the international version and am LTE/HSPA+ combo for the US edition, WiFi, Bluetooth 4.0, DLNA and NFC. Looking at the cameras we can tell you it has an 8-megapixel rear camera with autofocus, LED flash, geo-tagging, face and smile detection and simultaneous HD video (24fps) and image recording as well as video stabilization. It also has a 1.3-megapixel front-facing camera. One thing the HTC One X lacks that could be a big deal for some potential buyers is a stylus pen.
As you can see the specs and features of both are impressive but there are more instances where the Galaxy Note 2 comes out top, such as its better processor, use of S Pen stylus, more recent OS, the fact that the internal memory is expandable and battery both larger and also removable. However Phones Arena has taken an in-depth look at some of the specs and features and notes the various selling points of the camera setup where both have pluses and minuses. The report also looks at multimedia, design, loudspeaker performance, details of the display and call quality and agrees with us that the Galaxy Note 2 has the best specs overall although it's noted that the HTC One X leads the way in at least some aspects such as its brighter display and design. You can see a closer look of these two phones compared in the video below this story.
Ultimately a lot of your decision will come down to what you look for most in a phone and whether you prefer the 4.7-inch display size of the HTC One X or the massive 5.5-inches of the Galaxy Note 2. We'd like to hear your views on these two phones. Have you been thinking about purchasing the HTC One X or the Galaxy Note 2? If you have now decided between the two, what factor/s helped you make up your mind? Let us know with your comments.