Apple iCloud now featuring 25GB storage
There have been a lot of headlines over the last couple of weeks regarding the issues surrounding the iOS 6 update, which will have caused some embarrassment to the iPhone maker. Now another strange situation has come to light with the Apple iCloud service now featuring 25GB of storage for some users.
The team over at TUAW was tipped off about the iCloud service and the fact that Apple has apparently pushed up their iCloud storage plan to 25GB, and this is until the year 2050. A number of staff on the website have checked their accounts and also have the same increase. No one has actually upgraded their plans themselves or paid for the service for the next 38 years.
The company has been known to offer users free upgrades in the past, which was when Apple's online services failed to meet expectations, and it makes you wonder if this is the company's way of making up for all the issues surrounding its Maps application.
If you want to check to see if your account has been upgraded go to the settings option on your iOS device and select iCloud and then Account. The free 20GB storage upgrades that were previously given to MobileMe subscribers are due to have run out yesterday, but now these are set to run until September 30th 2050.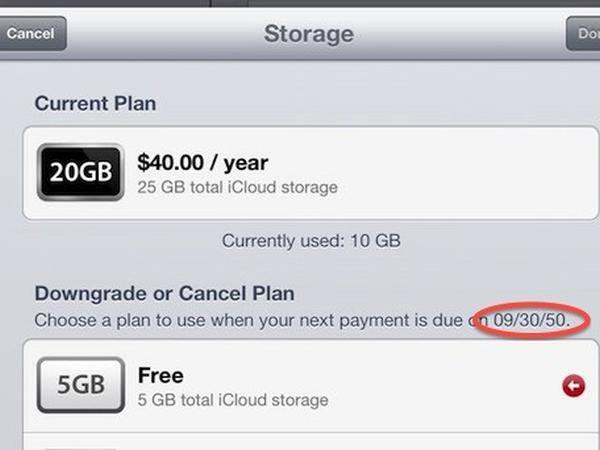 This could easily be some sort of bug in Apple's systems as they move MobileMe users from the 25GB plan to the 5GB plan. Meanwhile the Mac Observer are reporting that this extra long expiration date was still showing this morning, and is more likely a software issue as Apple had problems with its iTunes Store yesterday, and it seems that users are unable to extend their iCloud plans at the moment.
Does your iCloud account show the extra storage and date?