ESPN cricinfo cricket app with live coverage
If you are one of those people that simply adore the sporting game of cricket, and would like to be able to access comprehensive cricket coverage from your mobile device, as long as you are on either the iOS platform or Android platform there is an application available that can do that for you and that app is called the ESPNcricinfo app.
The ESPNcricinfo is an official app for the iPhone, iPod touch, Apple iPad and Android devices, and is a customisable application that features a special World Cup section that includes all of ESPNcricinfo's in-depth coverage, including breaking news, incisive opinion pieces from the world's best cricket writers, ball by ball commentary, audio and video.
The ESPNcricinfo app for iOS and Android offers international matches, ICC tournaments, major domestic leagues, including the Indian Premier League, the English Premier League, and Champions League, with match graphics, photos, reports, player profiles, scorecard and commentary.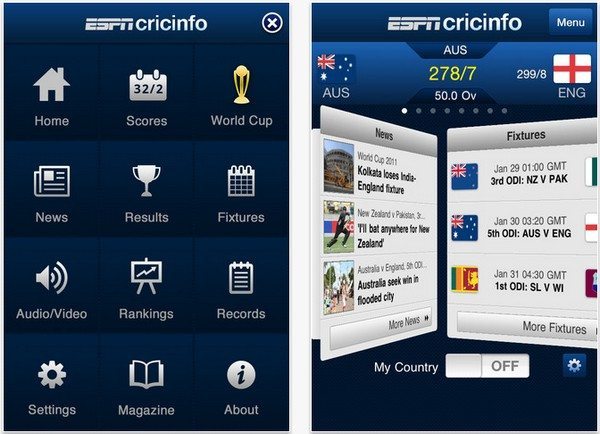 The ESPNcricinfo app also offers video highlights of all ICC World Twenty20 games for US users only, a new 'specials' section that offers a selection of ESPNcricinfo's magazine, an improved scores and fixtures section, a full screen mode, and push notifications so the user receives instant alerts for wickets, batsman milestones, along with score updates during live matches.
Fore those that own an iPhone, iPod Touch or Apple iPad you can download the ESPNcricinfo app to your iDevice for free by hitting up iTunes, and likewise if you own an Android device you can grab the app for free by heading on over to Google Play.