Intel ZTE V98 Windows 8 tablet and readers views
The tablet PC market is already a crowded space with a whole host of hardware to tempt consumers to part with their cash, and this is set to increase further later this year with the launch of Microsoft's latest operating system, Windows 8. Today we have an article looking at the upcoming Intel powered ZTE V98 Windows 8 tablet and some reader's views.
The guys over at Engadget have recently spent some time with the 10.1-inch ZTE V98, and the device features a 1366 x 768 LCD display that is housed in an aluminium body that has a bevelled edge like the one found on the white iPhone 5.
Under the hood is the Intel Z2760 processor coupled with 2GB of RAM, 64GB of ROM, and 32GB of internal storage, which can be boosted further thanks to the microSD card slot. Other features include both tri-band UMTS and quad-band GSM radios, GPS, Bluetooth 4.0, and 802.11 b/g/n Wi-Fi.
There are also the added options of NFC and LTE and camera wise you will find an eight megapixel shooter on the back, while around the front is a two megapixel unit for video calling. Providing the juice for all that tech is a nice and big 7,000 mAh battery shoe horned into a device measuring only 8.9mm thick.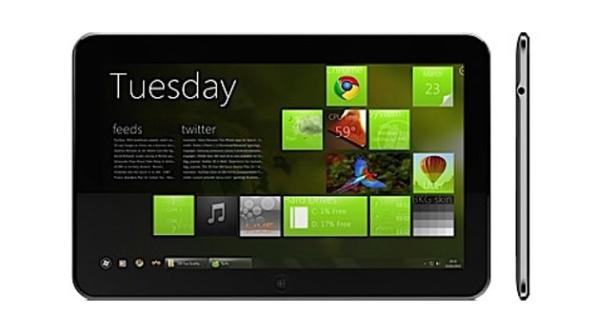 The team spent some time with the device and liked the solid build of the handmade unit, with the aluminium material offing a nice rigid feel when held in the hand. It's not all good news though as the volume controls, power button, and screen lock are positioned at the top of the slate, and being chromed plastic give it a lower end feel.
Protecting the SIM ports and SD card is a rotating magnetic aluminium door that is a nice change to the usual plastic offerings found on other similar devices. ZTE has revealed that the V98 won't be available to consumers until the first quarter of 2013, and some of Engadget's readers don't think the screen resolution is high enough and didn't like the industrial design of the device.
What do you think will the ZTE V98 be a worthy contender in the tablet PC market?