Samsung Galaxy Note 2, accessing new multiple window feature
The Samsung Galaxy Note 2 (Note 2) is surely one of the most talked-about phones of the moment and many people are anticipating its arrival. It's just hitting shelves in the UK with a US release expected later in October and is likely to sell in huge numbers with its large display and top-notch specs. Today we'd like to tell you about a new multiple-window feature for the Samsung Galaxy Note 2 and how to access it.
We've written many posts now about the Galaxy Note 2 including recent news on US variants and also a comparison with the HTC One X. However this new feature is something that had escaped our attention until now and we thought that many readers might be interested to hear about this software customization. The new multi-window feature has been displayed in a Korean launch video that you can see below this story and is similar to something we saw in the Galaxy Note 10.1 device but has far less limitations.
We found out about the video through Droid-Life who say that rather than only 6 apps that it worked with on the Galaxy Note 10.1, this latest version can apparently be used with any app. The multi-window feature enables the user to resize current areas of use and also hot swap apps. If you view the video you can see the feature shown at 2:04.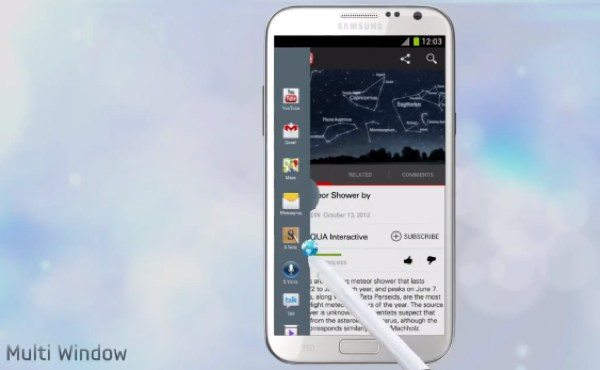 If you're intending to purchase the Galaxy Note 2 and you'd like to know how to access this new multi-window feature then simply head to the Back button and give it a long press. A semi-hidden menu will show itself and you'll then need to use the S Pen stylus to move it to where you want it. Finally just open the menu, choose the app you want and where you want it.
The Galaxy Note 2 has many highly rated specs and features and a customization such as this may not seem highly significant to some readers. However we think this new multi-window feature could be really useful to many readers and it's just one more notable touch for an already impressive smartphone. The almost 8-minute video also shows many other new features that are worth checking out so why not take a look.
We'd like to hear your thoughts on the Samsung Galaxy Note 2 and this new multi-window feature. Are you waiting to get your hands on the Note 2? Let us know with your comments.