X Factor 2012 app for iPhone adds fun
If you are a fan of the big talent search show that attracts thousands of potential stars, and millions of TV viewers, the X Factor, and you own an iOS device then you probably already use the X Factor app for iOS, and now the official 2012 X Factor app for iOS is available to download if you haven't already done so.
The official 2012 X Factor app for the iPhone and Apple iPad enables the avid fan to gain all the latest news, videos and images from the biggest show on TV, along with the ability to check out the social section so you can catch up with all the Twitter buzz and find out what the contestants, judges and celebrities are saying about the X Factor.
Also with the X Factor 2012 app comes the return of the Tap to Clap feature allowing the user to get involved by tapping to clap for the acts that you like or booing the acts that simply fail to impress, and there are quite a few of those, and the user can also sign into Facebook to see which acts their friends are clapping and booing.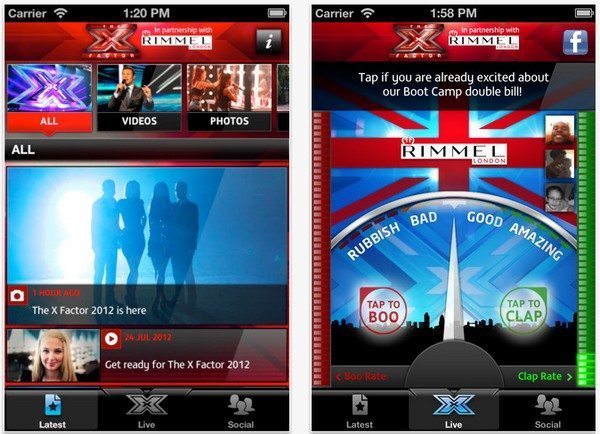 New with the 2012 X Factor app for iOS is a live polls feature enabling the user to give their opinion on acts during the show, a new and improved tweet display in the social section, and the Tap to Clap Audience Verdict feature which shows the user what everyone else is thinking.
The X Factor is quite a success story even though Simon Cowell is no longer a judge on the UK show, and no doubt many fans use the iOS app to play along and have fun, but one does have to wonder why they haven't yet decided to bring the many millions of Android users into the show by releasing an official Android version of the X Factor app, but there is an unofficial X Factor app available on Google Play.
For those X Factor fans that haven't already grabbed the X Factor 2012 app you can download the app to your chosen iOS device for free by hitting up iTunes.