32GB Nexus 7 evidence grows may release soon
There are many mobile devices that become available that have great features and specifications only to be let down by the amount of useable built in storage available. Sometimes this can be easily fixed by the addition of a memory card, but not all devices have this option. The Nexus 7 has proven to be a popular device offering some worthy specs for a more affordable price, and now evidence grows of a 32GB version being made available that may release soon.
We recently told you about a 32GB Nexus 7 listing showing up on a retailer's inventory system, and now according to a report on the Android Community its appearing on a number of other sites as well. A consumer tried to purchase a Nexus 7 on a particular site and a listing clearly showed a 32GB version coming soon.
Further investigation found that the unknown online retailer also gives a shipping date of October 24th for the new larger capacity Nexus 7. The name of the retailer was not revealed but doing a quick Google search of the product number, nexus7 asus-1b32, brings up a number of different results for a 32GB Nexus 7.
These include Buy.com and other smaller retailers with some listing the device as a new product that is coming soon, while some others list it as out of stock. Now there is a very good chance that a 32GB version is inbound, but it could be that inventory listings for the device where never removed after the company announced the Nexus 7 would only have 8GB and 16GB options.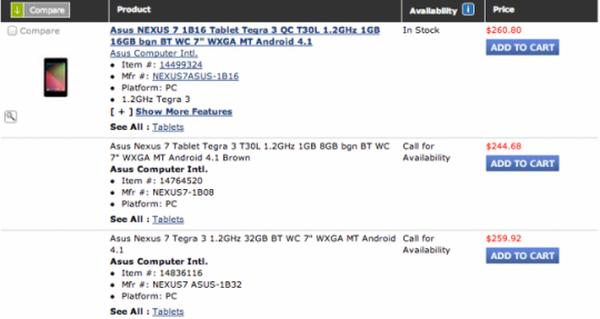 The Nexus 7 has been well received since its release and with the only real big complaint of it is that it needs more storage available. If accurate and a 32GB version is released Google may reduce the price of the 16GB version, which will then better compete with the Kindle Fire HD.
You would have thought we would get an official announcement soon and the device released in time for the busy holiday shopping season. Would you like a 32GB Nexus 7?