Motorola Droid RAZR HD accessory clue indicates release soon
The Motorola Droid RAZR HD is a much-anticipated smartphone heading to Verizon and from the amount of interest shown, this one looks set to be a big hit. However we've been talking about this phone now for many months and potential customers are now beginning to wonder whether it will ever make it to the shelves. If you're one of the many who are waiting to hear when the Droid RAZR HD will be set free, today we can tell you of an accessory clue that indicates a release soon.
Recently we told readers of rumors that the Droid RAZR HD may launch on Verizon in October following news that the RAZR HD equivalent for Europe was to release in Germany this month. However by the end of September we head some rather worrying news that both the Droid RAZR HD and Droid RAZR MAXX HD on Verizon may be delayed because of an antenna problem. Sources said though that Motorola was currently working on the issue and still hoped that the phones would be released for the holiday season.
We had many comments to this post so we know how many readers are waiting eagerly for the release of one or other of these handsets. Today though the news is looking more promising, at least for the Droid RAZR HD, as we have heard that Verizon stores are now receiving stock of RAZR HD screen protectors. Droid-Life brings this news and we have to say from experience that accessories arriving at retail stores are always a very good sign. It shows that stores are getting ready for the release of the actual device and very often indicates an imminent arrival.
A possible release date of October 18 for the Droid RAZR HD is also mentioned and this comes from Verizon's minimum advertised price (MAP) list although this isn't always reliable as dates are sometimes pushed back. If you've forgotten the key specs we'll remind you that the Droid RAZR HD on Verizon has a 1.5GHz dual-core processor, 4.7-inch display, 2500mAh battery and 8-megapixel rear camera and will run on Android 4.0 Ice Cream Sandwich. However as it has taken so long to arrive we'd like to think there's a possibility that when it eventually appears it may be running 4.1 Jelly Bean.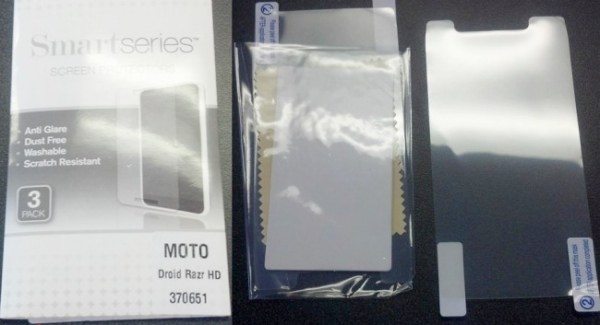 The fact that the first accessories for the Droid RAZR HD are arriving at stores should boost the hopes of those who are waiting for a release sooner than later. We shall, of course, continue to bring you more news on this as we hear it but it certainly seems possible that the Droid RAZR HD could be on sale in around two weeks. Of course it's also possible that the Droid RAZR MAXX HD will arrive at the same time.
We'd like to hear your thoughts on this. Are you waiting for the Droid RAZR HD and hoping this news means a release is coming shortly? If you intend to purchase this phone, what for you is the main reason why you have chosen the Droid RAZR HD over the many other impressive smartphones on the market right now? Let us know with your comments.