HTC One X leaked Jelly Bean update, ROM taste
Owners of the HTC One X are still eagerly waiting for their first taste of Android 4.1 Jelly Bean and we recently told how the official update is due to start rolling out in October, first for unlocked phones and then later for different carrier versions. However there is still no update on exactly when it will arrive and if you're a device owner who enjoys tinkering with your phone then we can tell you that a leaked Jelly Bean ROM is now available for the international HTC One X.
We recently informed readers of another Jelly Bean custom ROM available for the HTC One X although we were rather sceptical about it as sometimes these things turn out to be scams. However we have no doubts about the custom ROM we're telling you about today as it comes from XDA Developers. We must point out though that this ROM is only suitable for particular HTC One X phones with Tegra 3 processors and the relevant CID numbers are cidnum: HTC__001, cidnum: HTC__E11, cidnum: HTC__203, cidnum: HTC__102, cidnum: HTC__405, cidnum: HTC__Y13, cidnum: HTC__A07, cidnum: HTC__304, cidnum: HTC__M27, cidnum: HTC__032, cidnum: HTC__016 and cidnum: HTC__J15.
This news comes to us from Android Central, sourced from the Android Central Forums and there will be many HTC One X owners very happy to be able to try this out. As always though we'll give our usual caution that we don't recommend using custom ROMS and always advise waiting instead for the official update. If you do use custom ROMS and something goes wrong then the risk is entirely your own. By using a custom ROM you will invalidate your guarantee and you should only attempt using them if you have a good idea of what you're doing. That said, there are plenty of reliable custom ROMS out there and we know that many of our readers enjoy tinkering with their devices.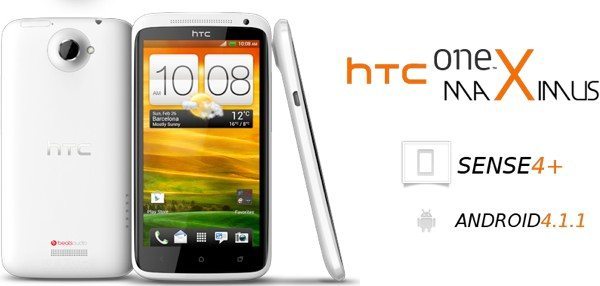 The ingenious developers over at XDA Forums have managed to come up with this 4.1 Jelly Bean update for the HTC One X by checking out the shipping software of the upcoming HTC One X+. The Android 4.1.1 and HTC Sense 4+ ROM is now ready to go but you must remember to back up your device before flashing if you're tempted to do so. Check it out at the earlier XDA Forums link if you want to see instructions and install it and please remember it is only for the specific models as mentioned above.
Benefits of using the ROM include improved speeds and a smoother performance and we'd like to hear from readers who do try this for their HTC One X. Let us know if it all goes smoothly and what you think of the improvements that Jelly Bean brings to your phone by sending your comments to us.