HTC Windows Phone 8X hits Switzerland on 2nd next month
As you probably know the latest smartphone out of the HTC camp in the form of the HTC 8X otherwise known as the Windows Phone 8X by HTC is due release around the world in November, and one such country that has now been confirmed as gaining the HTC 8X is Switzerland.
Switzerland is to be one of the first countries to offer the Windows Phone 8 packing HTC 8X, and will begin shipping as of the 2nd on next month from Orange Switzerland and will be offered as a free smartphone on tariffs starting off at about 56-quid per month when signing up for the usual two-year term with the carrier.
Spec reminder for the HTC 8X or Windows Phone 8X by HTC as it is now officially known, the device offers a 4.3-inch S-LCD2 touch screen with Corning Gorilla Glass 2, a 1.5GHz dual core Krait processor, 1GB RAM, 16GB internal storage, an 8 megapixel rear facing auto-focus camera with LED flash, 1080p video, a 1.2 megapixel front facing camera, WiFi, Bluetooth, NFC, and runs Windows Phone 8.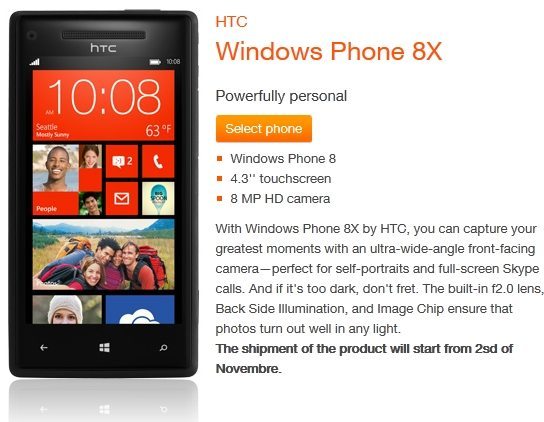 Over here in the United Kingdom it is expected that the HTC 8X will become available as of the 5th of November, whilst over in the good old US of A, the handset will also be released sometime in November on both T-Mobile and AT&T.
The Windows Phone 8X by HTC is the smartphone maker's response to the seemingly popular Nokia Lumia 920 smartphone, which is also due release next month. So with that in mind will any of our readers be opting to snap up the HTC 8X over the Lumia 920?