Samsung Galaxy S3 vs Galaxy Note 2, your usage decides
It's probably fair to say that two Samsung smartphones in particular have created the most buzz for the Android platform this year and they are the Galaxy S3 (S III) and the Galaxy Note 2 (Note II). Although we often bring readers comparisons regarding specs and features of devices, one of the things that we try to remind potential buyers is that which one suits your needs best is the right option for you. Today as an example of this we're looking at the Samsung Galaxy S3 vs Galaxy Note 2. If you're trying to choose between them it may be that your everyday phone usage will help you decide.
We've brought you many, many posts on these two handsets now but if you want a closer look at specifications then you could check out our Galaxy S3 vs. HTC One X+ article here, or our Galaxy Note 2 vs. HTC One X post here. What we really one to focus on here is how either the Galaxy S3 or Galaxy Note 2 might best suit your needs as regards to usage such as making calls, portability, emailing, display use, photography and much more. Before we start we'll remind you that the Galaxy S3 was released earlier in the year and is now globally available on a wide choice of carriers. The Galaxy Note 2 has been released in some regions, such as the UK but is still awaiting its launch in the US (see more on that here) and again will be available from a variety of carriers.
When we usually look at one phone against another we're sometimes pre-occupied with processor speed, operating systems, storage and more but it's easy to forget that day-to-day functions of a phone are just as, if not more important. Pocket-Lint has come up with an oversight of usual activities and we'll run through some of the key aspects and summarize them here.
What the phone is like to simply make a call with is something that we often overlook and in fact in this respect the Galaxy S3 and Galaxy Note 2 offer equally good call quality. When tested there was no discernable difference although the sound was very slightly louder on the Note 2. Another factor to consider here is the size of the phones and how comfortable you feel handling it and that's where there's a marked difference. The Galaxy S3 dimensions are 136.6mm x 70.6mm x 8.6mm, a pretty average size. However, the whopping display of the Note 2 pushes the dimensions up to 151.mm x 80.5mm x 9.4mm. While the larger Galaxy Note 2 may be great when you're using the display it may not be as comfortable to hold in the hand for making calls although different people will have different preferences on this.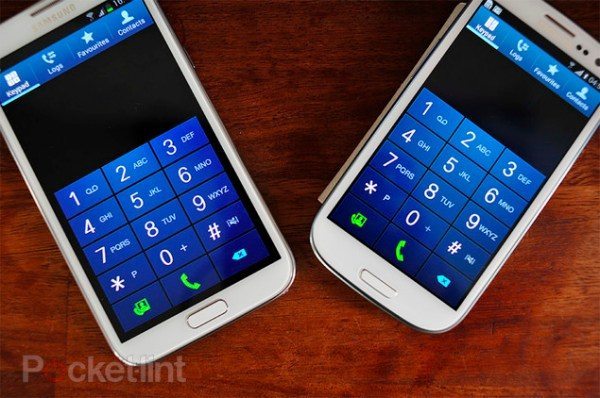 Moving on to portability and while some will say the Galaxy Note 2's size makes it more difficult to put in your pocket, in actual fact it should fit most pockets quite easily. Although it looks a lot larger than the iPhone 5 for example, the size won't be quite as noticeably bigger when compared to the Galaxy S3. Ultimately we'd say both rate highly on the portability factor.
Of course, many of us spend a lot of time staring at our smartphone displays and both of these phones have impressive Super AMOLED screens. Obviously if you're a heavy user of your device's display and web browsing then the advantage is with the larger 5.5-inch display of the Galaxy Note 2 compared to the 4.8-inch display of the Galaxy S3. However, for aspects such as emailing and texting the size doesn't make as much difference. The Galaxy Note 2 also has the S Pen stylus to take advantage of that sizeable display though.
When looking at each phone for emailing purposes the included Gmail and Samsung apps function exactly the same and both offer a responsive and precise keyboard experience. The emailing app does have neat handwriting integration though, which becomes useful as soon as the S Pen is pulled out on the Galaxy Note 2, allowing emails and texts to be written out with the stylus.
As far as camera use goes the display of the Galaxy Note 2 comes out tops for composure and shooting because of its larger viewfinder. The same applies to video capture and playback where the advantage of the full screen on the Note 2 comes into play but for image quality alone there's not a lot between them. However, the Note 2 does have some additional camera functionality using the S Pen, such as highlighting a frame's points of interest.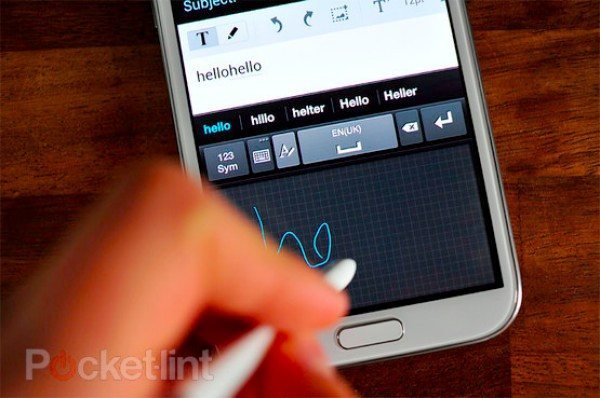 If you use your phone a lot you'll also want to take the battery power into consideration and while both the Galaxy S3 and Note 2 are likely to last you a day's use the Galaxy Note 2 just edges it for lasting slightly longer. The battery in the Note 2 is a higher capacity but of course the larger display needs more power. However when Pocket-Lint tested the battery use of each, after hour an hour of HD video the battery life on the Note 2 had only decreased by 3% whereas on the Galaxy S3 it had gone down by 10%.
Finally we look at social media and sharing and again both phones are excellent in this respect and gifted with a great sharing menu. Posting to your favorite social networks is easy using the Galaxy S3 or Note 2 but when looking at social media apps such as Facebook and Twitter, again the bigger display of the Note 2 comes in useful.
Ultimately the Galaxy Note 2's increased display size will come in very useful for many daily functions when using a smartphone but whether you prefer this will depend on how you feel about holding a more cumbersome device. On the other hand both phones are pretty equal as far as software goes though some might enjoy the S Pen use that comes with the Note 2. The Galaxy Note 2 costs around $100 more than the Galaxy S3 so if you think the larger display is an important advantage then it's probably worth spending the extra but both are certainly notable smartphones with a lot to offer.
We're interested to find out your views on the Galaxy S3 vs. the Galaxy Note 2. Have you already made a choice between these and are happy with your decision? If you have yet to make a choice, considering your daily usage of a phone rather than merely specs, which do you think you will opt for? Let us know with your comments.