Apple Maps no problem for 74 percent of users claims survey
When Apple dropped Google Maps and delivered Apple Maps with iOS 6, many of the iOS faithful were said to have experienced problems with Apple Maps, and the software left much to be desired. However if a recent survey is anything to go by, it would appear that 74 percent of iOS users are quite satisfied with Apple Maps.
A report over on Electronista show that a survey conducted by an SEO ranking provider for small businesses suggest that reporting of the issues with Apple Maps might be a tad overblown, as apparently in North America the survey has found that 74 percent of those surveyed say Apple Maps is fine.
Apparently the initial survey took in some 1100 people, but only 200 of those were included in the in-depth study due to those 200 having iOS 6 and used Apple Maps, and although only a small sample size, those respondents were a diverse group and thus deemed statistically significant.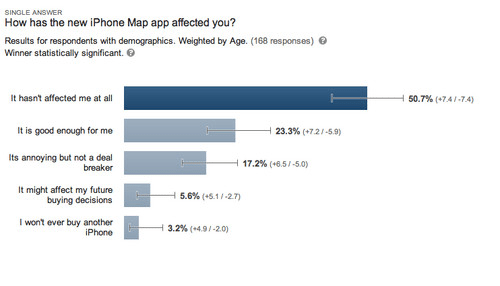 So out of those 200 users surveyed, 50.7 percent stated the problems surrounding Apple Maps didn't affect them, 23.3 percent said Apple Maps was good enough for their requirements, whilst 17.2 percent stated that the problems with Apple Maps whilst annoying were not a deal breaker.
However 5.6 percent of the remainder did say they were not happy with Apple Maps, and that the issues with Maps could affect future purchasing decisions, and just 3.2 percent said the problems with Apple Maps has basically put them off and as such they will not be purchasing another iPhone.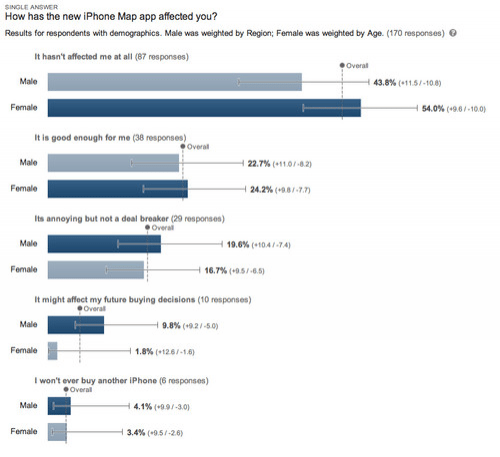 Of those iOS users that said the Apple Maps problems hadn't affected them, 43.8 percent were men and 54percent were women, whilst those that said it was good enough, 22.7 percent were guys and 24.2 percent were ladies, and as for that annoying but not a deal breaker response, 19.6 percent were male, and 16.7 percent where female.
Apple is obviously aware of the problems with Apple Maps in iOS 6, and is working on improving the Maps app, but as Google has far more experience when it comes to Maps, it will probably be some time before Apple manages to catch up with Google Maps.
So we'd like to hear from any of our iPhone toting readers out there if they have experienced any issues with Apple Map or if they think iOS Maps is fine, so feel free to let us know your opinion by dropping a line to our comments area.