Samsung Galaxy S3 v Galaxy S3 Mini, Jelly Bean advantage
Over the last few weeks we've been bringing you developments about the Samsung Galaxy S3 Mini, the smaller and cheaper version of Samsung's flagship Galaxy S3 (S III). It would be easy to assume this is just a mini version of the Galaxy S3 but although their looks are virtually identical except for size, other aspects are miles apart. If you're trying to make up your mind between these two smartphones our look at the Samsung Galaxy S3 vs. Galaxy S3 Mini may help you to decide which is the best choice for you.
We'll start with a look at the specs and features of each phone and then highlight some of the differences ending with availability and pricing before our conclusion. First off the Samsung Galaxy S3 has an Exynos 1.4GHz quad-core processor (1.51GHz Snapdragon dual-core for US variants), 4.8-inch Super AMOLED touchscreen display with resolution of 1280 x 720 and 306ppi, LTE (regional), 1GB of RAM and16, 32 or 64GB internal memory expandable via microSD to 64GB. It also has a very decent 8-megapixel rear camera with LED flash, autofocus,1080p HD video recording and the ability to simultaneously record video and images, along with a 1.9-megapixel front-facing camera.
The Galaxy S3 also has WiFi 802.11 a/b/g/n, DLNA, WiFi Direct, WiFi Hotspot and Bluetooth v4.0, NFC, microUSB 2.0 and a sizeable 2100mAh battery. Dimensions are 136.6mm x 70.6mm x 8.6mm, it weighs 133g and it comes in Pebble Blue, Marble White, Amber Brown, Garnet Red, Sapphire Black and Titanium Gray color options, dependent on region and carrier. The Galaxy S3 was launched on Android 4.0 ICS and the 4.1 Jelly Bean update has started to rollout to some regions and carriers but the process so far has been very slow.
The Galaxy S3 Mini on the other hand has a 1GHz NovaThor dual-core processor, 4-inch Super AMOLED touchscreen display with resolution of 800 x 480 and 233ppi, no LTE connectivity, 1GB of RAM, and 8 or 16GB of internal storage expandable via microSD to 32GB. There's also a 5-megapixel rear camera with LED flash, autofocus and 720p video capture plus a VGA front-facing camera, WiFi 802.11 a/b/g/n, DLNA, WiFi Direct, WiFi Hotspot, Bluetooth 4.0, NFC, microUSB 2.0 and a 1500mAh battery.
Dimensions of the Galaxy S3 Mini are 121.6mm x 63mm x 9.9mm, it weighs 111.5g and will be available only in a white color option. The big advantage that the S3 Mini has though is that it will be released running the very latest Android OS, 4.1 Jelly Bean and that is a big deal for a lot of people. As we mentioned previously the rollout of the Android 4.1 Jelly Bean update to the Galaxy S3 has been shockingly slow with it only being pushed to very few regions so far. We recently discussed how the update had been pushed back time and time again for the US and how many owners of the device were becoming increasingly frustrated, as there is still no definitive news on when it will arrive.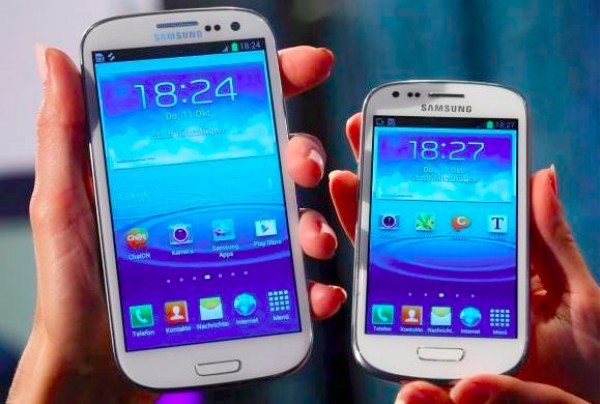 Apart from the advantage of Jelly Bean for the Galaxy S3 Mini though, many might be surprised if they thought they would be getting the same phone as the Galaxy S3 but just in miniature, as the specs are nowhere near to it. This is clear from the less powerful processor, poorer camera capabilities, lack of LTE, smaller battery capacity, less internal storage, lower resolution display and less color options, all of which apply to the Galaxy S3 Mini and prove that in this case, size certainly does matter. In fact Jelly Bean is just about its only advantage unless of course you just prefer a smaller handset.
One more advantage the Galaxy S3 Mini will have over its older stable mate though is the price. The original Galaxy S3 has been available for many months now and costs between £400 and £500 SIM-free. The Galaxy S3 Mini comes out at some point in November and although release news and pricing for the US hasn't been detailed yet, Trusted Reviews says the UK price will be around £250 SIM-free. That's up to half the price of the Galaxy S3 then and so this could make a significant difference for many people.
Ultimately though, if you were expecting the Galaxy S3 Mini to live up to the high-end specs of the Galaxy S3 you'll be disappointed. The Galaxy S3 Mini is very much a midrange phone and can't live up to its older statesman. However, if you want a smaller device, want to pay a lot less and also want Jelly Bean out of the box then the Galaxy S3 Mini could be right for you.
We'd like to hear from our readers about this. Had you hoped that the Galaxy S3 Mini specs would be closer to those of the original? Maybe regardless of its lesser specs, the smaller size and advantage of Jelly Bean appeal to you? Maybe now you've seen what each has to offer you wouldn't consider anything but the first Galaxy S3? Let us know with your comments.