Nokia Lumia 810 interesting WP8 phone for T-Mobile
You probably know by now that T-Mobile is to offer the Nokia Lumia 810, their version of the Nokia Lumia 820 for AT&T, with Magenta's Windows Phone 8 handset running on the T-Mobile HDPA+42 network, and like other Lumia devices, the T-Mobile Lumia 810 will have interchangeable back plates, but with a more boxier design than the 820.
The Nokia Lumia 810 is T-Mobile's first Windows Phone 8 device, and comes with a 4.3-inch WVGA AMOLED ClearBlack touch screen, along with an 8 megapixel rear facing camera with Carl Zeiss optics, and a 1.21.5GHz megapixel front facing snapper, and obviously as the Lumia 810 design is difference the device wont be able to use Nokia Lumia 820 back plates, but the 810 will come with two options on the black plate, black and cyan.
The Nokia Lumia 810 for T-Mobile is quite an interesting smartphone overall, coming with its own uniqueness, although there's nothing we haven't really seen before, and just like other Nokia handsets the Lumia 810 will come with Nokia Maps, Nokia Music, Nokia Transit, and Nokia CityLens.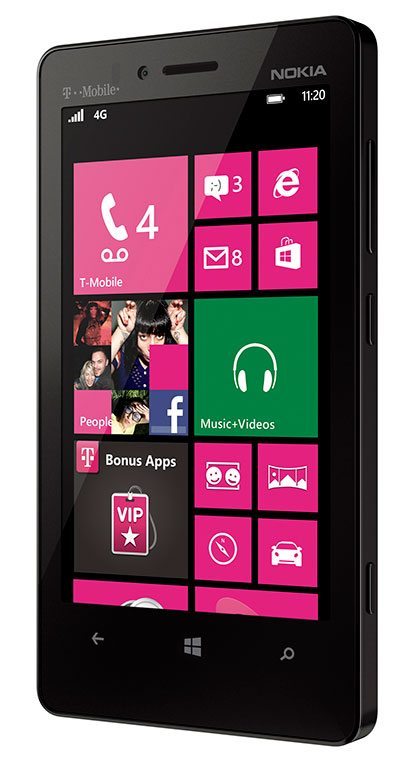 Back at MobileCon Cnet managed to get a first look at the Nokia Lumia 810, which T-Mobile will have exclusivity over, and we have a video of that occasion for your viewing consideration below, but due to Microsoft soon to hold the official unveiling, the Lumia 810 was on lock down so you don't actually get to see the screen quality.
Apart from that 4.3-inch display, the Nokia Lumia 810 also sports a 1.5GHz Snapdragon S4 dual core processor, and just like other Windows phones, the device sports a dedicated camera button that enables the user to launch the camera even from a sleeping or locked handset.
Size wise the Nokia Lumia 810 for T-Mobile measures 5 x 2.7 x 0.44 inches with a weight of 5.1 ounces, and has an 1800mAh battery that is said to offer a talk time of up to 10.6 hours and a standby time of up to 18 days. Unfortunately although the Nokia Lumia 810 will be coming to T-Mobile soon, the carrier hasn't yet said how much the smartphone will become available for.