Samsung Galaxy Note 2 for Mobilicity, pre-order bonuses
As you no doubt know the latest big thing from the Samsung camp is the Samsung Galaxy Note 2, and if you are over in Canada, you might like to know that the Galaxy Note 2 will be coming to Canadian shores as of the 30tth of this month by way of Rogers, Bell, WIND, Videotron, SaskTel and Mobilicity.
According to an article over on Mobile Syrup, Mobilicity has now put the Samsung Galaxy Note 2 up for pre-order, and if you are one of the first 1000 customers to slap in a pre-order for the Android Jelly Bean smartphone, Mobilicity will apparently give those 1000 customers a 50-buck discount on the device.
For those that just might have forgotten, the Samsung Galaxy Note 2 offers potential customers a 5.5-inch Super AMOLED touch screen along with Corning Gorilla Glass 2, a 1.6GHz Exynos quad core processor, Mali 400 graphics, an 8 megapixel rear facing auto-focus camera with LED flash, 1080p video, a 1.9 megapixel front facing snapper, Bluetooth 4.0, WiFi, NFC, LTE, 2GB RAM, 16GB/32GB/64GB internal storage, microSD expansion up to 64GB, a 3.5mm jack, DLNA, WiFi Direct, WiFi Hotspot, S Pen functionality, a 3100mAh battery and runs Android Jelly Bean.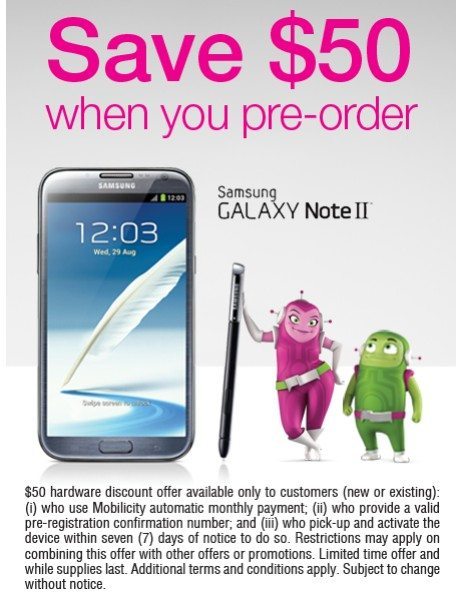 If you are contemplating placing a pre-order for the Galaxy Note 2 from Mobilicity, there is a bit of small print detail for gaining that 50-buck discount in as much as you are required to sign up for Mobilicity's automatic monthly payments program by the 6th of November.
Furthermore you will be required to provide a valid pre-registration confirmation number, and who pick up and activate the device within 7-days of notice. So if you are all okay with that, and would like to place a pre-order for the Galaxy Note 2, you can do so by entering your personal details by hitting up the Mobilicity website.