Microsoft Surface RT slate pricing revealed
If you are over in the good old US of A and have been pondering on the idea of picking up the Microsoft Surface RT tablet once the device becomes available, but aren't too sure just how much the tablet will actually set you back, you are about to find out because Microsoft has now revealed the pricing for both the 32GB and 64GB Windows slate.
According to a report over on Slash Gear, Microsoft has posted a listing to their official store which shows that there are three Surface slate options, which are the 32GB model without a Black Touch cover costing $499, whilst the 32GB version with a Black Touch cover will set you back an extra 100-bucks.
Whilst the Microsoft Surface tablet with RT with 64GB and Black Touch cover will hit the pocket for 699-bucks, while the touch cover is sold as a separate item in five differing colours, black, white, blue, pink and red, and command a price tag of $119.99 each.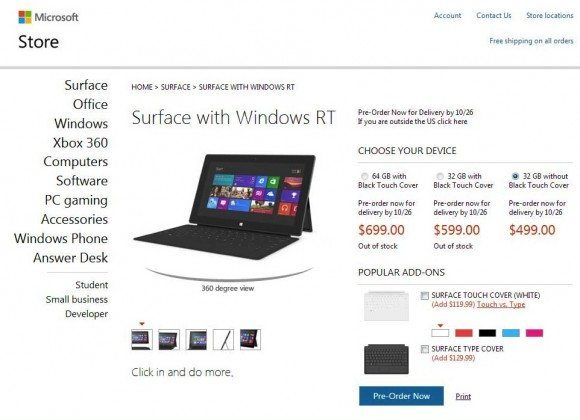 Apparently the company will also be offering a Surface Type cover, which is a traditional style keyboard for those that prefer a more physical keyboard for text entry, although it will only be available in black and will command a price tag of $129.99.
For some reason though, Microsoft has decided to pull the pricing page for the Surface RT tablet, although the page did reveal that all three options for the slate can be pre-ordered as of right now with an expected delivery date of the 26th of this month.
And just in case you missed it, Microsoft put out their first commercial for the Microsoft Surface tablet, which we have embedded for your viewing consideration below.