Dishonored and Rat Assassin Android Apps for Fun
The first person action adventure game Dishonored has been available for only a short time now, and allows players to take on a number of assassination missions using a variety of methods. Today though we have some Dishonored and Rat Assassin Android Apps for fun to show you.
First up we have the free Dishonored Gameplay application for you that basically showcases the new game that was released a few days ago, and also includes links to the gameplay for Dishonored Rat Assassin, and the developers have promised to update the app with tips, tricks, and walkthroughs. To find out more or to download hit Google Play.
Dishonored Pro Guide promises users news feeds, reviews, interviews, social feeds, achievements, and full HD video walkthroughs, and the app can be found over on Google Play for £1.24.
Next we have the Dishonored Official Map App for you that is a digital companion to the game, and allows players to find and track the hidden goodies in the game. There are also detailed maps from each part in the game, which provide the location of all the Bone Charms, Outsider Shrines, Runes, Sokolov's Paintings, and Books. There is also a special tracking tool allows players to mark the ones that have already been found, and the ones that are still left to be found. To download click here.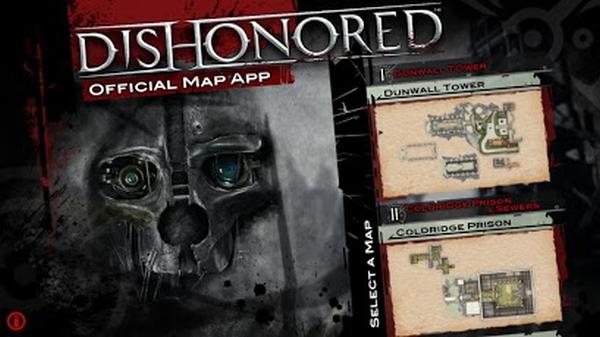 Dishonored PS3 Trophies provides users the list of the PS3 trophies for the Dishonored game and is free to download via Google Play.
Finally we have the Dishonored Theme HD app for you that lets fans of the game customize their smartphone with high resolution wallpapers. To find out more or to download head over to Google Play.