Fluid Football game now on Android platform
If you are a avid lover of playing tactical football games on your mobile device, and are on the Android platform, you just might like to know that you can now get your football fix with the release of a new football app for Android called Fluid Football, an app that previously launched on iOS back in August but has now made its way to Android.
The Fluid Football game for Android enables the gamer to plan their game strategy in real time via an overhead view of the football pitch, enabling the gamer to put pace defenders, string together passes, and set up pinpoint crosses along with any other of hundreds of possible game strategies.
With the Fluid Football game, players can play through challenging cups featuring dozens of objectives, unlock dozens of challenges with more being added via updates, features highly intuitive drawing based controls for complex scenarios, with a 3D view for precision shooting and a full hints system to help you complete challenges.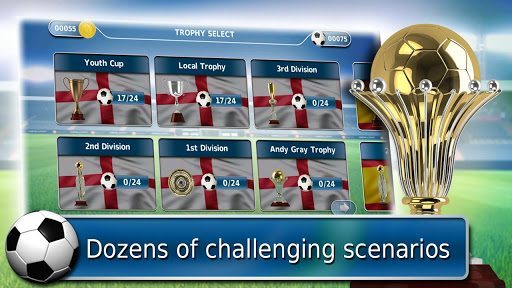 When using the Fluid Football app the gamer can devise advanced strategies with simple finger swipes to direct their team's actions to line up that important goal shot, whilst the commentary in the game is supplied by professional football broadcasters Andy Gray and Richard Keys.
Fluid Football supports numerous popular Android devices including the Samsung Galaxy S3, Galaxy S2, Galaxy S, Sony Arc, HTC Desire HD, Motorola RAZR, Sony Xperia, Samsung Galaxy Tab, Nexus 7 and the Amazon Kindle Fire.
For those Android faithful who are into playing the beautiful game and would like to take advantage of what the Fluid Football app has to offer, you can download the application to your chosen Android device as a free download by hitting up Google Play.