Motorola Droid Razr HD, Atrix HD, Razr M & more, root method available
We always like to keep readers informed with news about particular devices and if you're a fan of rooting your phone the following details may interest you. It appears that somebody has already rooted some of the newest Motorola phones including the Droid RAZR HD and RAZR M, so those concerned about devices arriving with unlocked bootloaders won't have to worry, as an exploit is available.
Here at Phones Review we cannot recommend tampering with your device and anything that goes wrong is your responsibility entirely. However we do know that many people like the freedom that comes with rooting their smartphones and so they will be pleased to hear this news. The root method was developed by Dan Rosenberg, otherwise known as @djrbliss and you can see an image further below showing the root on a Droid RAZR M.
News of the root comes from Droid-Life, sourced from XDA Developers and @djrbliss says that the root should work on the RAZR M, the RAZR HD, the Atrix HD, Photon Q and RAZR i. To use the root you'll need to connect your phone to a Windows PC, download a zip (download links at Droid-Life above), extract the zip, install current ABD Motorola drivers and then use a run.bat file with instructions. This should take around 3 minutes in total so it's not too long out of your life to get your device rooted.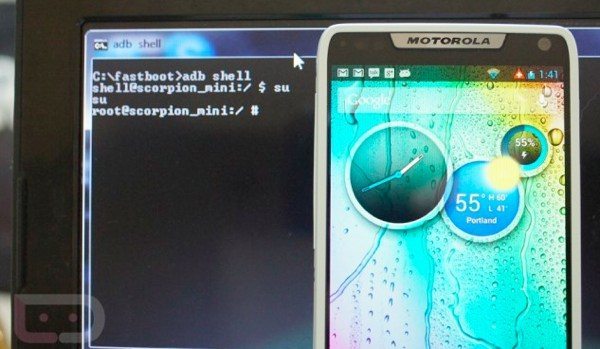 If that fails for any reason there are further instructions available at Droid-Life (above) or of course at XDA Developers, where you can also make a contribution. Phone Arena adds the Droid RAZR MAXX HD to the list of devices that you can use this root with and also interestingly adds that not only will this exploit work for Android ICS that runs on these phones but it also worked on the Droid RAZR M with leaked Jelly Bean. This indicates that it might also work on these phones once the Jelly Bean OTA update finally arrives.
We're interested to hear from readers who may be considering rooting their device. If you use this root maybe you could let us know how you got on? Send your thoughts on this by letting us have your comments.