Asus Transformer Pad Infinity v10.4.4.18 update: Changelog
The smartphones and tablets devices that we use now days often use complex software that can sometimes have a few minor frustrating issues that spoil the enjoyment of using the device. Luckily manufacturers normally address these issues by releasing updates, and today we have news of the Asus Transformer Pad Infinity v10.4.4.18 update with the changelog.
The team over on the Android Police are reporting of a minor update that is being released for the Asus Transformer Pad Infinity (TF700), and the update is bringing with it some nice bug fixes with Asus actually releasing the changelog to go with it.
To start with there has been a fix with Facebook and the front camera specifically when switching to the front shooter the Facebook app would crash. Asus has also sorted the issue with some 802.1x Wi-Fi APs that can't be connected following the updating to Android Jelly Bean.
The company has also fixed some problems with software for the keyboard with the Y and Z characters being opposite with the Asus Czech QWERTY keyboard, and the problem affecting the backspace key on the dock that was deleting words randomly has also been addressed.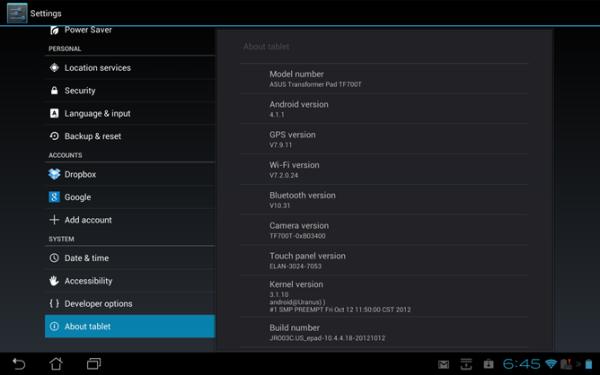 Before the update when a user selects a Google Search Widget in the Widgets page it would cause an error message of "this widget not responding", and a Google Bookmark sync function has been added to the default Android browser.
These bug fixes will be welcome news for owners of the device that will actually allow them back into their costly system, and its great the company moved quickly to release the update and fix the problems. To find if the update is ready for you Transformer Pad Infinity first head into settings and select About tablet, and then select System Firmware Update.
Has your device received the update yet?