Samsung Galaxy Note 2 vs HTC J Butterfly, phablet showdown
The Samsung Galaxy Note 2 is a fine example of a phablet, almost a hybrid of a smartphone and tablet because of its larger screen size. Although there was some concern that nobody would want a device with such a large display when the original Galaxy Note launched, that was soon blown away and it became a huge hit. Its successor, the Note 2 (II) is already out in some regions and due in the US later this month but another phablet device is now on the way, the HTC J Butterfly. We're taking a look at the Samsung Galaxy Note 2 vs. HTC J Butterfly in a phablet showdown.
First of all we'll start with some confusion over the HTC J Butterfly. This is the name of the device that will be released in Japan on KDDI in December but many of you may have heard rumors of a global release. Meet the HTC Droid Incredible X or HTC One X5 with a 5-inch display heading to Verizon, which may be a US equivalent. We have also seen this referred to as the HTC Droid Incredible X 5 to add further to the confusion so take your pick! You will notice that many of the J Butterfly specs are the same as those rumored for the Droid Incredible X.
Whatever variants for other countries are dubbed they are all candidates for the brilliant display of the J Butterfly that is gaining huge admiration right now. We'll take a look at the key specs and features of these phones to give you an idea of what each has to offer.
Processor
The Galaxy Note 2 has a 1.6GHz Exynos quad-core processor while the HTC J Butterfly has a 1.5GHz Qualcomm Snapdragon quad-core processor. There's really nothing to split them here although we're sure future benchmark tests will attempt to. For now we should just note that these are both excellent processors and will offer great performance.
Display
The Galaxy Note 2 has a whopping 5.5-inch Super AMOLED display with resolution of 1280 x 720 and 267 ppi. This is a very decent display but the J Butterfly blows it out of the water. The HTC phone has a 5-inch Super LCD 3 full HD display with resolution of 1920 x 1080 and 440 ppi, the first phone to have a 5-inch display with full HD.
RAM and Storage
The Galaxy Note 2 has 2GB of RAM and 16, 32, or 64GB of internal storage, expandable to 64GB. On the other hand the J Butterfly also has 2GB of RAM but 16GB of internal storage, expandable via microSD.
Camera
Samsung's flagship Note 2 has an 8-megapixel rear camera with autofocus, LED flash and video capture of 1080p along with a 1.9-megapixel front-facing camera. The J Butterfly has an 8-megapixel rear camera with 1080p video recording capability and a 2.1-megapixel front facing shooter.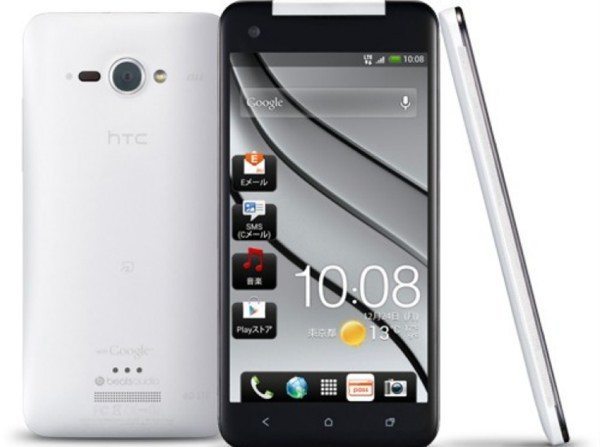 Operating System
The Galaxy Note 2 runs on Android 4.1.1 Jelly Bean while the J Butterfly will also launch running the latest Jelly Bean OS.
Battery
There's a large-capacity 3100mAh battery in the Galaxy Note 2 while the J Butterfly battery is 2020mAh. This could concern some as there are a lot of high-end specs to power including that incredible display. However as Auto-o-Mobile points out the J Butterfly's LCD 3 display along with a low nano meter processor might use less power making this a moot point at the moment.
Color Options
Titanium Gray and Marble White are the color options for the Samsung Galaxy Note 2 while the J Butterfly will come in black, red or white.
Dimensions and weight
Samsung's Galaxy Note 2 measures 151.1mm x 80.5mm x 9.4mm and weighs 183g while GSM Arena tells us that the HTC J Butterfly measures 143mm x 71mm x 9.1mm and weighs in at only 140g, quite a noticeable difference.
Other Details
The Galaxy Note 2 has LTE connectivity, Wi-Fi 802.11 a/b/g/n, Bluetoooth 4.0 and NFC support. The HTC J Butterfly has LTE connectivity, Wi-Fi 802.11 a/b/g/n, Bluetooth 4.0 and NFC. Extra features for the Galaxy Note 2 include the S-Pen Stylus and multi-windows feature while the HTC J Butterfly includes Beats Audio and is also dustproof and waterproof .
To be perfectly frank it's pretty difficult to split these two handsets. Display-wise the Galaxy Note 2 is bigger but the J Butterfly has that incredible full HD display with 440ppi. The Galaxy Note 2 benefits from a stylus while the J Butterfly is much lighter and might appeal to the more clumsy amongst us because of it being waterproof. Swings and roundabouts really but some of your choice might be down to personal preference of design and to be fair both are extremely sleek and good-looking handsets.
We'd like to hear from readers about these two handsets. If you could choose between them right now, which would you opt for and why? Let us know with your comments.