iPhone 5 time and date problem, discussions erupt
Although the iPhone 5 has been a massive hit as everybody expected, the latest Apple iPhone hasn't been without flaws as we've documented several times recently. Now it seems another problem has hit with reports of the iPhone 5 having time and date problems. Discussions have erupted on forums about a date and time bug that seems to be confined to those people using Verizon as a carrier, although you may know differently.
The iPhone 5 has already been blighted with problems and complaints about build quality, WiFi issues, Apple Maps, light leakage and more. So much so in fact, that it was recently the subject of a comedy sketch on Saturday Night Live. Now the latest issue with the time and date for the new iPhone seems to be attracting a whole lot of attention on Apple's Support Communities, adding further to Apple's woes with this latest iteration. Plenty of iPhone 5 users are reporting that their device shows the wrong date or time, sometimes being one day out but anything up to two weeks astray.
Many of those complaining say they are Verizon Wireless customers and there are already 21 pages of discussion and hundreds of comments about this issue on the Support forum here as reported by Cnet. Make that 24 pages now as we've just checked the latest situation. It seems that the issue is especially noticeable when users are at home, particularly when LTE or Wi-Fi coverage is not reliable. The first people who reported the issue to Verizon or Apple appear to have had a mixed response but later posts say that both companies now seem to be aware of this bug and are investigating. However some others say Verizon is laying the blame at Apple's door and vice versa.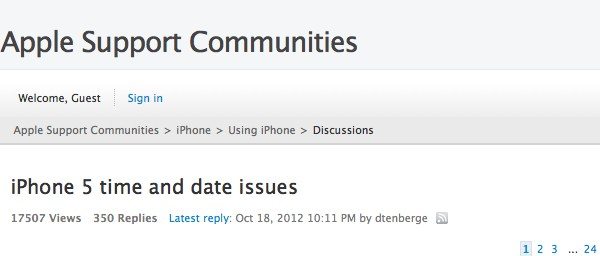 There have been plenty of suggestions to fix the issue on the forums too with ideas such as changing the settings from automatic to manual, switching off LTE and more but although some say these ideas have worked for them, that doesn't apply to everyone. Understandably there seems to be a certain amount of frustration from many of those affected.
We're really interested to hear from people who have encountered this problem with their iPhone 5s. Did any of the fix suggestions work for you? Are you a Verizon customer? If you have complained to Verizon or Apple how have they responded? Send your comments to let us know, as it would be interesting to find out how widespread this issue is.