HTC DLX for Verizon in new leak
The desire to own a smartphone with a large screen has grown in recent times, as devices seemingly get larger with displays going up to 5.5-inches with the Samsung Galaxy Note 2. Luckily there is a lot of other sizes to pick from and the HTC DLX for Verizon has appeared in a new leak.
The handset first made an appearance last month as rumours began to gather pace that HTC were about to join the 5-inch smartphone party, and more recently they announced the J Butterfly for consumers in Japan, but with the promise of the display being used on other handsets for regions outside of the country.
Now the guys over at Android Central have some images of the HTC DLX for Verizon, and apparently the DLX is pronounced more like 'deluxe' with the device set to be the first HTC One smartphone on the carrier.
The handset will share the same screen size as the HTC J Butterfly announced in Japan that is a Full 1080p HD display, and the source is claiming that the display is stunning with the possibility of it being a Super LCD 2.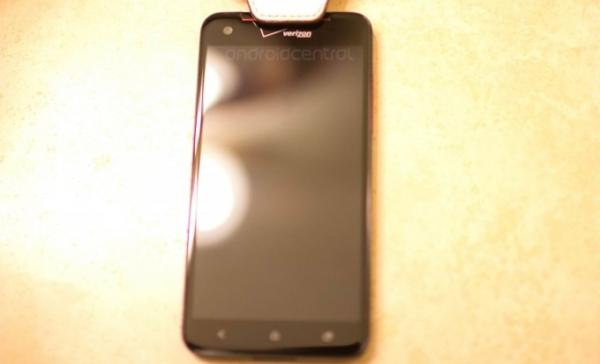 There is some confusion over the specifications of the handsets camera with images suggesting an eight megapixel sensor, and the source's leaked specs hinting at twelve megapixels. Processor wise the HTC DLX looks to be powered by the quad core Qualcomm Snapdragon S4 Pro clocked at 1.5GHz coupled with 2GB of RAM.
Battery wise the smartphone is rumoured to be powered by a 2,500 mAh unit that isn't removable, and the source responsible for leak is saying that the rear of the handset reminds them of the Droid Incredible 2, with a soft-touch finish rather that a polycarbonate material.
There is the usual dark red highlights that has been used a number of times by Verizon, which includes the volume controls, bezel, and camera housing. One thing that may be different is the power button that has been positioned on the top of the bezel in the centre.
The handset will also feature physical buttons and the source has Android 4.1.1 along with Sense 4+ running on the leaked unit, with 4G LTE and Beats Audio showing up in the images. Hopefully it won't be too much longer before hear something official from HTC or Verizon soon about the device.
Will you be considering the HTC DLX on Verizon?