HTC One X+ Jelly Bean MaXimus custom ROM
For those Android faithful that love tinkering with their smartphone and installing custom ROMs, if you own the HTC One X+ smartphone, it appears that the world's first custom ROM for the HTC One X+ has been made available, and that ROM is called the MaXimus custom ROM.
The MaXimus custom Android Jelly Bean ROM for the HTC One X+ comes from the guys over at XDA-Developers, and is the first Android 4.1.1 custom ROM with Sense 4+ for HTC's latest flagship device in the HTC One range of smartphones.
The MaXimus custom ROM for the HTC One X+is based on the latest RUUs, and has the following highlights, Deodexed, zipalighned, rooted, Aroma installer, Sysro/sysrw, Init.d capabilities, RAM optimisations, added busybox, and unsecured boot.img.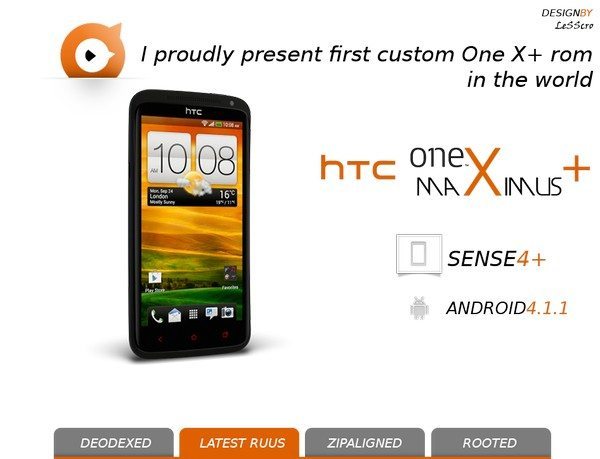 Also the MaXimus ROM has been tweaked for the best performance, has a faster and smoother UI, all apps updated, the ability to choose the language you want, delete feedback apps, delete bloatware, a general clean up and adds Solid Explorer, Tegra Zone and AdAway.
I'm sure most know that the HTC One X+ comes with Android 4.1 Jelly Bean aboard, but having access to the MaXimus custom ROM is great for the owner that wishes to ditch the bloatware on the device.
A quick spec reminder for the HTC One X+, the smartphone offers a 4.7-inch Super LCD2 touch screen along with Gorilla Glass 2, an 8 megapixel rear facing auto-focus camera with LED flash, 1080p video, a 1.3 megapixel front facing snapper, a 1.5GHz NVIDIA Tegra 3 quad core processor, 1GB RAM, 32GB or 64GB internal storage, no microSD expansion slot, NFC, Bluetooth 4.0, and an 1800mAh battery.
So there you have it, if you would like to give the MaXimus custom ROM a whirl on the HTC One X+ you can now do so, and if you do please feel free to let us know how it all goes by dropping us a line to our comments area below.