No Motorola Android Jelly Bean rewards $100 rebate
Over in the USA Motorola is planning on rolling out the latest Android operating system, Android Jelly Bean to numerous Motorola devices that were first offered for sale in 2011 or later. However it appears that Motorola will not be delivering Jelly Bean to all devices, and for those that don't see Android Jelly Bean Motorola is offering a bit of a sweetener in the form of a few bucks.
The offer for those customers that own a device that will not get updated with Android Jelly Bean is a reward of $100 in the form of a Motorola Prepaid card, carrier credit, Verizon Wireless gift card, or other equivalent at the discretion of Motorola and only offered in the US.
Those Motorola Android devices that will not be gaining the Android Jelly Bean update include the Motorola Droid 3, and Droid X2, the Motorola Atrix 4G and Atrix 2, Motorola Milestone 3 and Milestone X2, Motorola Photon 4G, Motorola Titanium, Motorola Admiral, Motorola Electrify, Motorola Triumph, Motorola XPRT, and the Motorola Cliq2.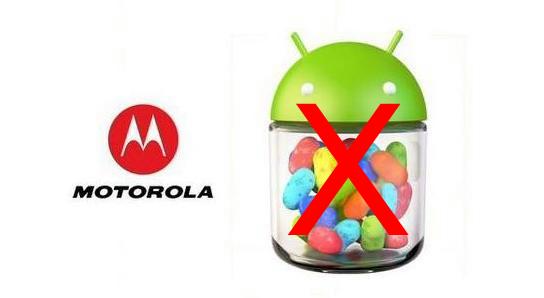 For owners of any of the above Motorola Android devices to gain that 100-buck reward they will be required to trade up to a select new Motorola handset, which includes either the Motorola Droid RAZR M, Motorola Atrix HD, Motorola Droid RAZR HD, Motorola Electrify 2, Motorola Droid RAZR MAXX HD, or the Motorola Photon 2.
However if you are ready to trade up one should remember that the terms and conditions of your old smartphone will still apply and will include any ETA fees.
So there you have it, the Motorola Android smartphones that will not be gaining Android Jelly Bean, and will thus need to trade up if they wish to have a device running the new Android OS. Will any of our readers be taking advantage of Motorola's trade up Jelly Bean offer?