Galaxy S3 on Sprint Jelly Bean update delight could come today
Well this is intriguing. We've been writing for some time now about the Android 4.1 Jelly Bean update for the Samsung Galaxy S3 (S III) and in particular the long delay in releasing it to U.S. carrier versions. Owners of the device in the US have been expecting the upgrade to Jelly Bean for some time and have been disappointed after several false starts and very recently it still looked as though it could be months away. However we've just heard of a leaked Sprint document about the update for its Galaxy S3 and if genuine the delights of Jelly Bean could be coming from today!
A couple of weeks ago we wrote about the growing frustration among US Galaxy S3 owners about the long wait for Jelly Bean and we had a big comments response from readers, many of whom were pretty annoyed and blaming both Samsung and the major carriers. A week passed and we then told about the latest official Samsung update on the situation for the US Galaxy S3 that simply stated it would arrive in the coming months and reports were that it may not come until 2013. This applied to US carriers Verizon, AT&T, T-Mobile and U.S. Cellular but rather strangely it was also reported that Sprint may be an exception. Further to this we told yesterday how the Galaxy S3 unlocked version in the UK was now receiving Jelly Bean and again mentioned that those in the US with carrier versions were still waiting.
Well maybe somebody knew something we didn't as Android Central now reports on a leaked Sprint image that was posted on the Android Central Forums. Of course we cannot validate this but if the image is genuine then there's really good news for Sprint owners of the Galaxy S3 as it details a software update (L710VPALJ7) that will bring Android 4.1 Jelly Bean as well as improvements to LTE system selection and exchange interaction. Better still it states that this update will be effective from October 25, that's today, and that it will be pushed out over several weeks to existing Sprint Galaxy S3 owners. You can see the image below.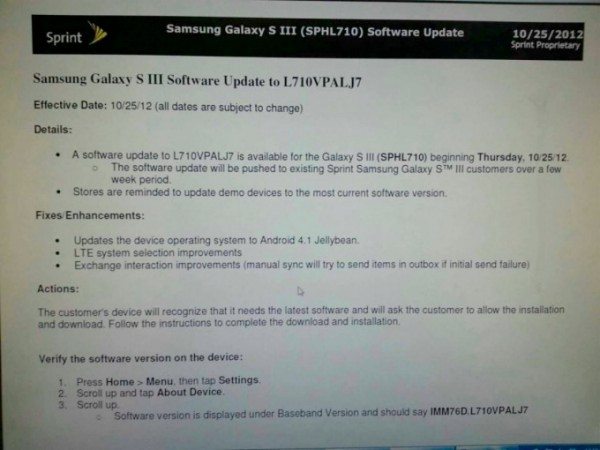 This document certainly looks convincing as it includes the build number and even a reminder to stores to update their demo models. It also details how customers will receive notification to their device of the update and they should follow instructions to download and install. We'll remind you that it does say that this update will rollout over a few weeks so you may not receive your taste of Jelly Bean from today. However it's certainly worth checking for updates regularly now as it looks as though some lucky Sprint GS3 owners could receive it as early as today.
Although we'd really like this to be authentic, as we know how many people are eagerly waiting for this update, we just can't know for sure right now but we'll be looking out for signs of Jelly Bean arriving for the Galaxy S3 on Sprint throughout the course of the day. In the meantime we'd really like to hear from anybody who does get the notification about the update today so that we can know for sure that this is the real deal.
Are you the owner of a Galaxy S3 on Sprint and waiting for Jelly Bean? Maybe your device has already received notification today and you can tell us if the update went smoothly for you? If you receive the update at any point over the next few days/weeks we'd be interested to hear from you as it can be helpful for readers to be able to share their experience of updates with us and other readers, so let us have your comments.