Halloween Angry Birds Seasons app, Haunted Hogs levels
The phenomenally successful Angry Birds game continues to prove popular and as you might expect the Angry Birds Seasons game has just received a Halloween update on both iOS and Android platforms. This brings Haunted Hogs with 30 new levels themed around Halloween so get ready to play in the haunted house where the piggies are dressed up in the spirit of the occasion.
The Halloween update arrived in the last day or so and if you've previously purchased the game then it's a free update. If not, you can purchase the Angry Birds Seasons game from the App Store here for $0.99. It's compatible for the iPhone 3GS, iPhone 4, iPhone 4S, iPhone 5, iPod touch (3rd generation), iPod touch (4th generation), iPod touch (5th generation) and iPad and requires iOS 4.3 or later.
The app is optimized for the iPhone 5 and version 3.0.0 finds the pigs hiding in the haunted house while the Angry Birds attempt to get their eggs back, braving all kinds of spooky things. The update also features ghostly Halloween music and we get to meet new character Frankenswine while another addition is ghost bricks for trick shots. If you haven't yet purchased Angry Birds Seasons then iDownload Blog reminds us that there's also an HD version available here for the iPad at $2.99.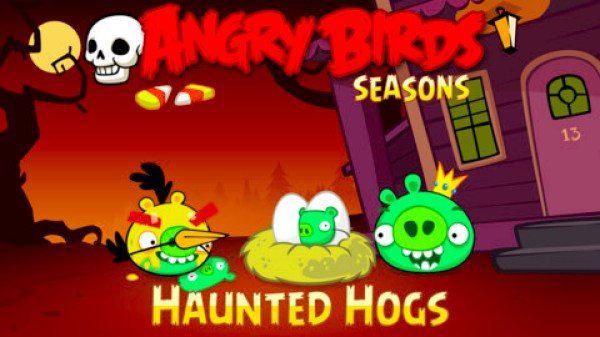 Alternatively you may be an Android device user and if so Angry Birds Seasons featuring Haunted Hogs is available at Google Play here. This is a free app for Android devices though requirements differ by device. We imagine these new Halloween levels for Angry Birds Seasons will keep plenty of people amused and we also recently told readers about the new 'Angry Piggies' game that you can find out more about here.
We'd like to hear your thoughts on the Angry Birds Seasons Halloween update with 30 new levels. Are you already playing these levels and if so what do you think of them? Maybe you will download the Haunted Hogs levels right now just in time for Halloween? Send us your comments on this.