Halloween edition werewolf Android collectibles, buy Oct 30th
The most spookiest night of the year is fast approaching, and we know there are many of the Android faithful out there that collect Android collectables, mini statutes of the now famous Google green robot that are available in a multitude of disguises, and to mark this year's Halloween there is a new Android collectible becoming available to add to your ever growing collection.
It appears that a long time ago in the land of Android, vampires didn't actually sparkle like they do now, and werewolves were great at playing basketball, and as such there is a new Halloween special edition werewolf Android collectible coming out to spook the other Android mini robots in your collection, which has been brought to our attention by the Dyzplastic Blog.
As you can see by the images this special edition mini robot collectible features a werewolf look including nice scary fangs, beard, spooky green eyes, yellow jersey, and on the back is Androids 12 with the word Android in relief.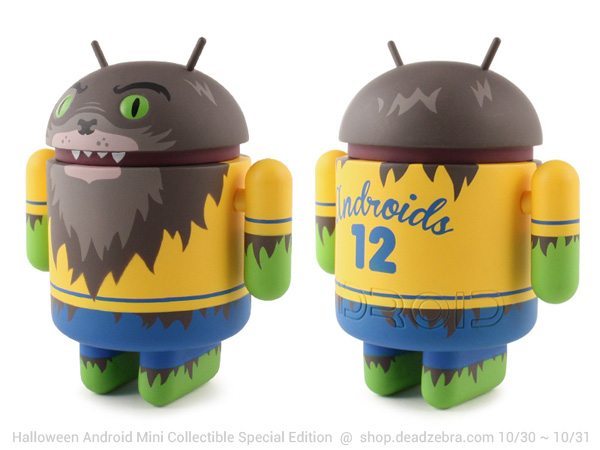 If you don't happen to be out partying or scaring the neighbours to get your Halloween kicks this year, you can always have a little fun with this Halloween werewolf mini robot by doing battle with your other collectibles.
Although I am one of the Android faithful I personally don't collect these small Android figurines, but I do know many love to own them, and so if you are one of those you can pick up the Halloween special edition werewolf Android collectible as of the 30th of this month, with sales kicking off at 11PM (EDT) and again at 11AM (EDT) on the 31st of October by hitting up the Dead Zebra website.
So there you go, yet another mini Android robot to add to your growing army, will any of our Android faithful readers be picking up this werewolf edition come Halloween?