Samsung GT-B9150 aka Galaxy Q foldable screen Jelly Bean device arrives soon
As you are probably aware, there are rumours that old Samsung is bringing flexible displays to the mobile space at some point in the future, but it isn't clear when; however it appears that Sammy will be delivering their first mobile device to sport a foldable touch screen in the form of the Samsung GT-B9150.
According to an article over on Sam Mobile, the Samsung GT-B9150 is a device that uses a 5.3-inch Super AMOLED HD Dual display, and will pack the Korean company's new Exynos 5250 processor, and according to a report over on Tech Jailbreak, the Samsung GT-B9150 is the Samsung Galaxy Q, a foldable SmartBook.
The rumoured specs for the Samsung Galaxy Q includes that Exynos 5250 Cortex-A15 1.7GHz dual core processor along with 2GB of RAM, NFC, Bluetooth, an 8 megapixel rear facing snapper and a 2 megapixel front facing camera, a 3500mAh battery and will possibly run v4.1.1 of the Android Jelly Bean operating system.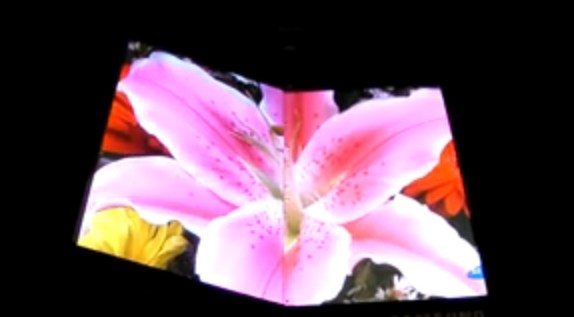 Although apparently it isn't quite clear just what version of the Android OS the Galaxy Q will come out to play with, due to Android updates rolling out rather rapidly.
As for when we are likely to see the Samsung Galaxy Q foldable touch screen device come out to play, well the only word on that matter is that is should arrive sometime in 2013, so let's hope it will be early next year.
We have embedded a video of Samsung's folding OLED display that hit the net a few years ago to give you a hint of what the Galaxy Q could work like, so head on down and mash that play button to check out the folding action, and feel free to let us know if the possibility of the Samsung Galaxy Q/GT-9150 floats your mobile boat by dropping us a line to our comments area below.