Beesy HD, A complete note taking app for iPad
Beesy HD, a smart note taking applicationfor the iPad, is targeted towards business professionals who have the need to manage their teams, projets and their own To-Do list in one app Beesy was developed as a business tool to manage daily activities from a single application: Beesy provides a smart note taking app that understands the underlying tasks and suppress unnecessary operations by: Automating To-do lists from meetings, Enabling instant meeting minutes and Providing On-demand task management by people, project or type of action.
The All-In-One App
Beesy is the only app who allows you to manage your daily business activity integrating perfectly into your usual tools (ex: synch with your iPad calendars), you just throw your pen and paper to a tablet.
Beesy has 4 great features for you to save time without losing any information:
1. Quickly take notes: you can use actions templates in one click (task, event, idea) include smart notes (audio record, sketches, webpage). And by a simple drag & drop you quickly organise your meetings by agenda and participants.
2. Share your actions with others: Beesy generate in a single click professionnal meeting minutes using 100% of your notes. You can send it instantly at the end of a meeting to all the participants and it will embed attachments (photo, webpage, audio record) for a media-rich experience. Two more options : push your notes to Evernote and access from all devices, export it to CSV for futher reporting.
3. Browse and search: you can browse and filter all your actions by Notes, Type, People or project, and use our built-in search feature to easily find your actions, contacts or projects.
4. Manage your teams & projects: you can import your iPad contacts on Beesy, include them in your meeting notes and assign actions to them. Moreover you can easily follow-up your contact activity, group your actions and notes into projects and prepare your reviews on one click.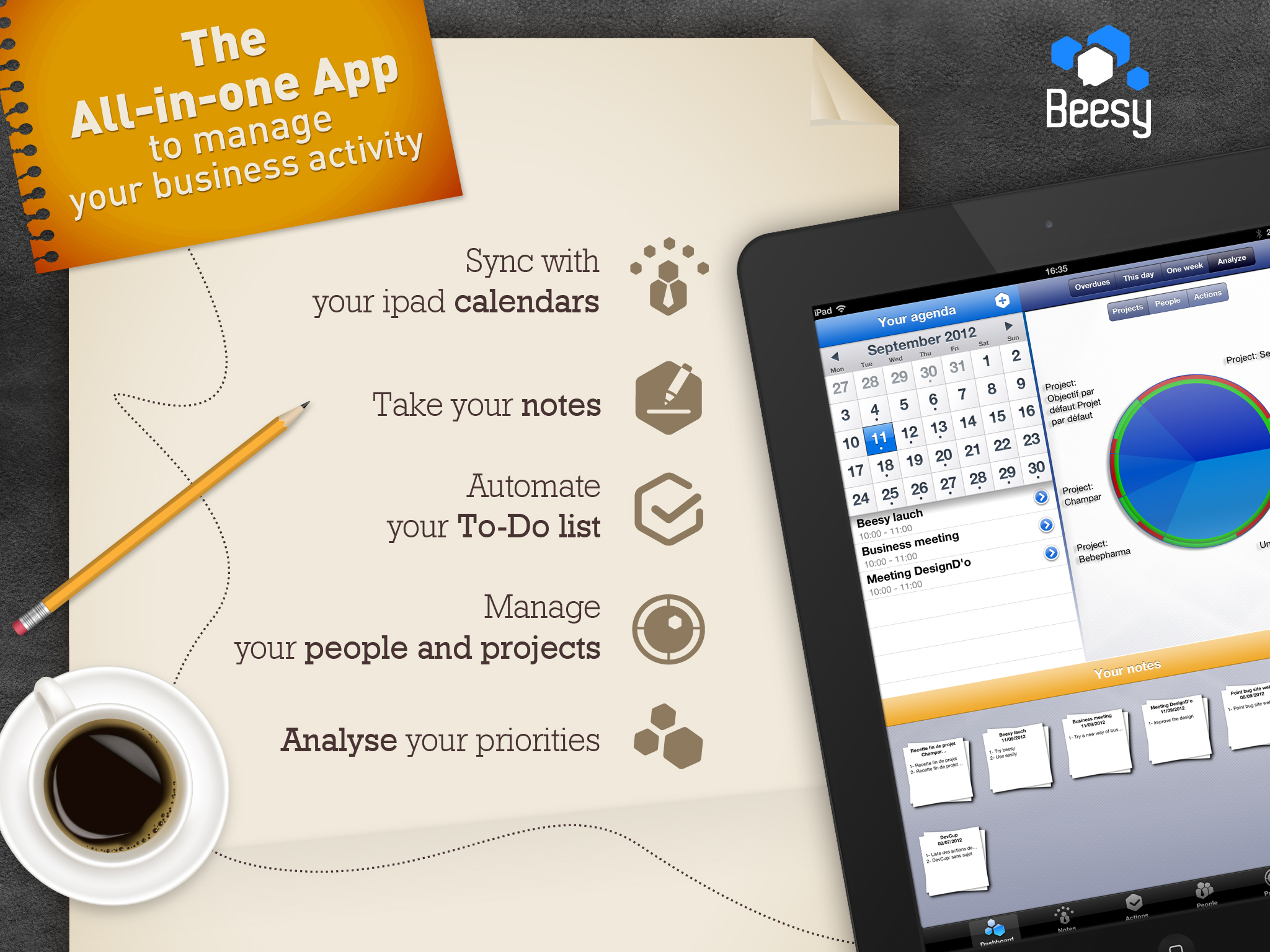 With 6 new languages, Beesy is adapting to local markets
We're currently developing the German and Spanish speaking markets and have recently translated our app in several languages: german, spanish, italian, chinese, japanese, portuguese.
We'll finish with south korean sometime this month.
Beesy increased its worldwide footprint to provide a larger audience to its taking notes application on iPad designed for professionals.

Here is a breakdown of our users with a majority of French and US customers .
– 32% in France
– 31% in the US
– 7% in UK.
– 6% Switzerland
– 4% Australia
– 3% Belgium
– 3% Canada